Traveling in Hokkaido off-peak season: a rundown of March-May events!
After a few years of running guesthouses, we really understand first-hand that visitors to Hokkaido tend to be seasonal. Winter and summer are jam-packed with tourists. The in-between months are quieter.
If you look on the regular travel blogs, most of them focus on the December – February period, followed by June – early September.
I get it, I do. These are the famous months.
These are the months that Hokkaido is renowned for. The snow festival. The winter conditions. In summer, the lavender fields. The cooler-weather.
They are wonderful times of year.
But, I also have a special place in my heart for Spring and Autumn in Hokkaido. You can sightsee some of the places that are open year-round without the crowds. The weather is, overall, generally good. And there are also some great events going on.
So, when flights and accommodation are at their cheapest, what is there to do in Hokkaido?
Today I'm going to introduce some of my personal highlights for March, April and May – and this is just the beginning.
I mean, the food in Hokkaido is amazing throughout the year, and most of the main attractions – the zoos, the parks, the museums, the hot springs – remain fully available too.
(Later in the year, I'll do some insights for Autumn too – because I really recommend coming then – the fall leaves are STUNNING!)
March
Okay, the first thing to remember about March is that we still have snow, and quite a lot of it! Most of the ski and snowboarding resorts are still open with great conditions.
Although the Sapporo area snow festivals finish up in February, out to the East of Hokkaido (where the snow remains the longest), you are still going to be able to catch some great events and sights until the middle or end of March.
I particularly recommend checking out:
1. Shikaribetsu Lake Kotan
A frozen lake, with a village of igloos, an open-air hot spring (water from Shikaribetsu onsen), an ice bar, a bunch of snow activities, and even the chance to stay over in an ice lodge if you fancy it.
Where? Lake Shikaribetsu, Shikaoi
When? Open now, through until 21st March 2018
Transport? It about a 4-hour drive from Sapporo city. Public transport is a bit tricky, but this is one that it's worth hiring a bus for your group for. Social Bus hire prices for this day trip start at around 80,000JPY for an 11-hour hire, so for a 10-person group it makes it only 8000JPY per person!
2. Sounkyo Ice Fall Festival
A stunning winter festival, filled with ice statues and illuminations each evening. Very, very beautiful and worth the trip to East Hokkaido for!
Where? Sounkyo, Kamikawa (WEBSITE)
When? Open now, through until 18th March 2018
Transport? Public transport is possible, but it's between 5-6 hours and you need to budget 7000-10,000JPY per person each way. By car or charter bus it's just over 3 hours. Again, our bus hire prices for the day trip start at around 80,000JPY for an 11-hour hire, so for a group of 7 or more, you are going to make a saving on the return journey.
Finally, if you are in Sapporo in March, why not check out:
3. 15th Sapporo Wine Festival
This is a one-day event, but there are over 1000 kinds of wine and champagne, and it's local for the city. An advance ticket is 2000JPY, or 2500JPY on the day.
Where? Royton Hotel 3F (WEBSITE)
When? 14th March 2018
Transport? Easy enough to walk or use public transport if you are in Sapporo city.
April
There will still be some snow about in April (especially on the mountains or in rural areas), but in the city it's becoming easier to get around. This month is one of the quietest for tourists, so for me, it's the best time of year to check out some local attractions without the crowds and make the most of the slightly warmer weather.
My birthday is mid-April, so we always do some local travel for it. We've had amazing weather the last few years too! It's still cold in the evenings, but for my 30th we managed an outdoor BBQ party!
Some of my top-April recommendations are:
1. Lake Toya and Mount Usu
This is one of my favourite day trips! Toya is stunning all year round, and the hot springs look right out over the lake. Toya also has a bunch of great local food – from bakeries to ice cream. Mount Usu is a short drive from Toya, and you can take the ropeway up to see some spectacular views, an active volcano, and enjoy local stores and a bear park at the base of the mountain.
From the end of April, you can also check out a free 20-minute firework display every evening at Lake Toya.
Where? Lake Toya
When? Fireworks, from 28th April 2018
Transport? From Sapporo, Lake Toya Station is about 2 hours. The train is between 5000-6000JPY. Keep in mind though, that the lake itself is another taxi or bus ride from the station, and Mount Usu is then another taxi ride from Lake Toya. It's an easy journey to do, but the prices add up for the return journey.
We do lots of trips down to Lake Toya, and our buses start at 72,000JPY for the daily hire for this journey. Again, if you have a group of 7 of more, you are going to be making some savings in money and time for the return journey!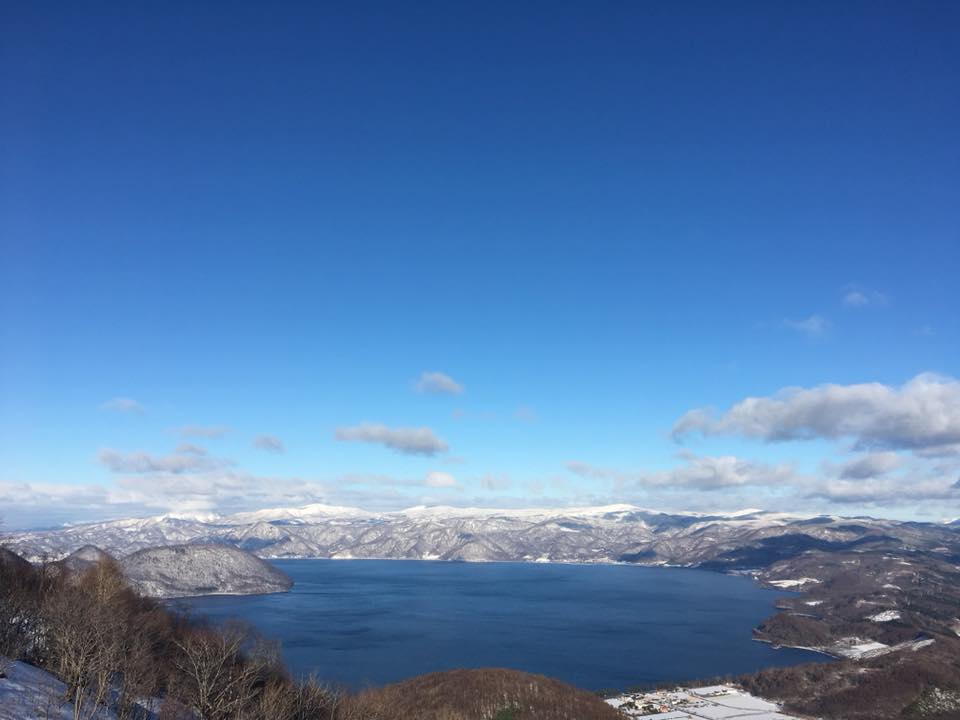 2. North Safari Park
One of our team is an avid fan of this safari park, and he recommends it at any chance he has! It's an interactive zoo where you can meet the animals, so great for families!
You can try holding snakes, touching animals up close, and riding a Segway in the zoo. It's also only 1500JPY get in so a great, reasonably priced day out!
Where? North Safari Park, (WEBSITE)
When? Every day 10am-5pm
Transport? You can take the Jotetsu Bus bound for Jozankei Onsen from Makomanai Subway Station to Toyotaki Shogakko Mae Bus Stop. There's then a free shuttle bus available.
If you are looking at a Jozankei area tour, then we can also add this stop in for you and your group. This area is just to the south of the city, so daily Social Bus hire prices are as low as 45,000JPY for an 8-hour hire.
3. Okurayama Ski Jump
Beautiful views of the city in every season, and lots to see and do at the Winter Olympics Museum too.
Where? Okurayama Ski Jump Observatory (WEBSITE)
When? All-year
Transport? Only 40-50 minutes on the subway from Sapporo station and about 460JPY each way. Definitely one for public transport!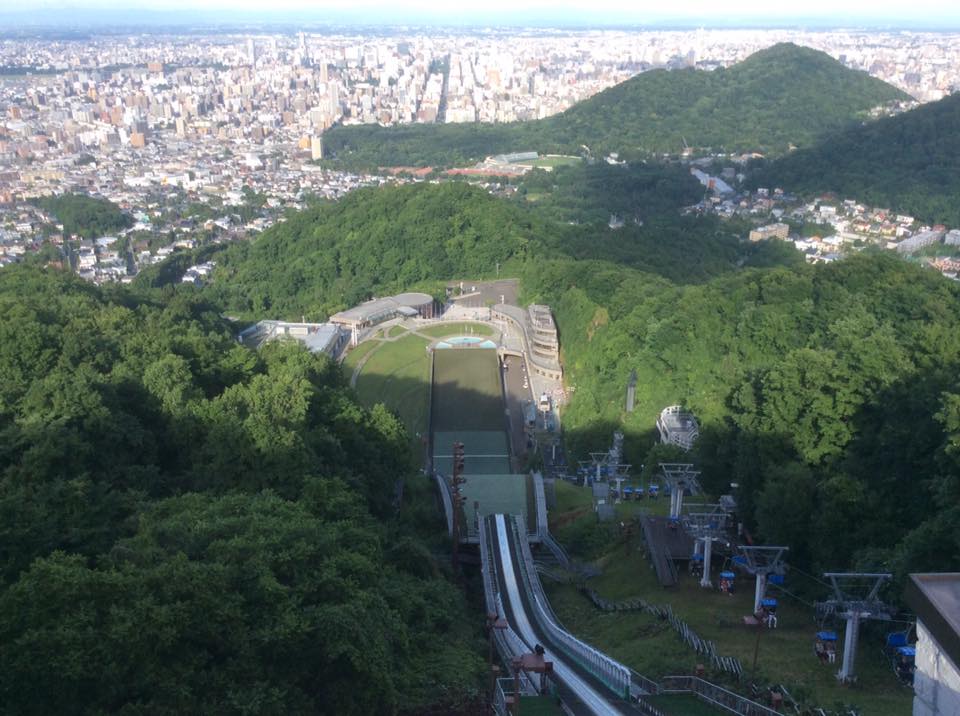 4. Moerenuma Park
Moerenuma Park is a stunning place, full of green space and sculptures by Isamu Noguchi. An amazing balance of nature and art!
Where? Moerenuma-koen (WEBSITE)
When? All-year
Transport? You can take the Toho Subway Line to Kanjodori-higashi Station and then get local bus number 69 or 79 to the park's east entrance (Moerenuma Koen Higashi-guchi).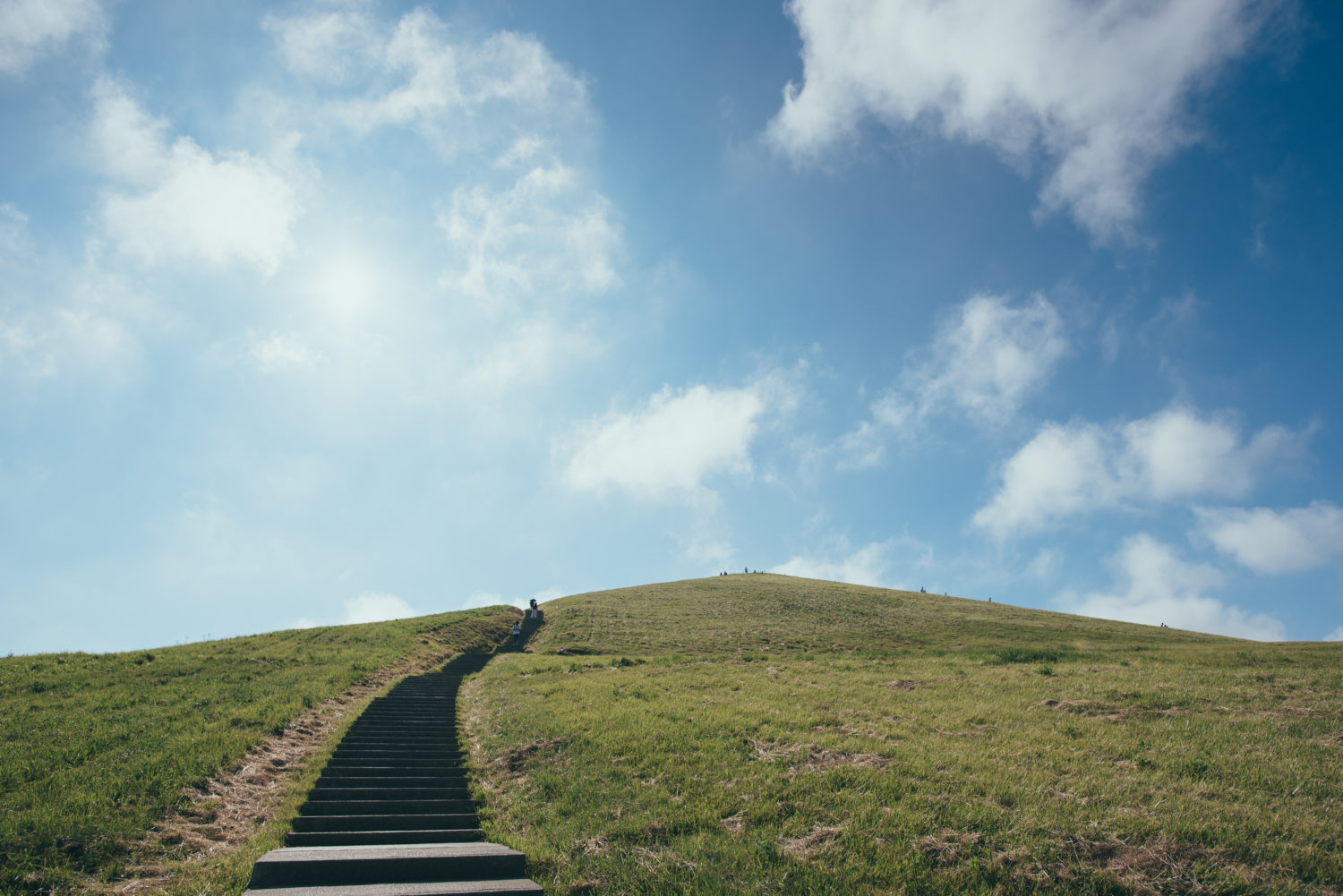 5. Noboribetsu Onsen
Noboribetsu Onsen is one of Hokkaido's most famous hot springs. People travel especially to take in the views at Jigokudani, or 'Hell Valley' which is named after it's volcanic appearance.
Where? Noboribetsu (WEBSITE)
When? All-year
Transport? Doable by both bus and train. Prices start from about 2000JPY each way on the bus – or 4,500JPY each way on the JR.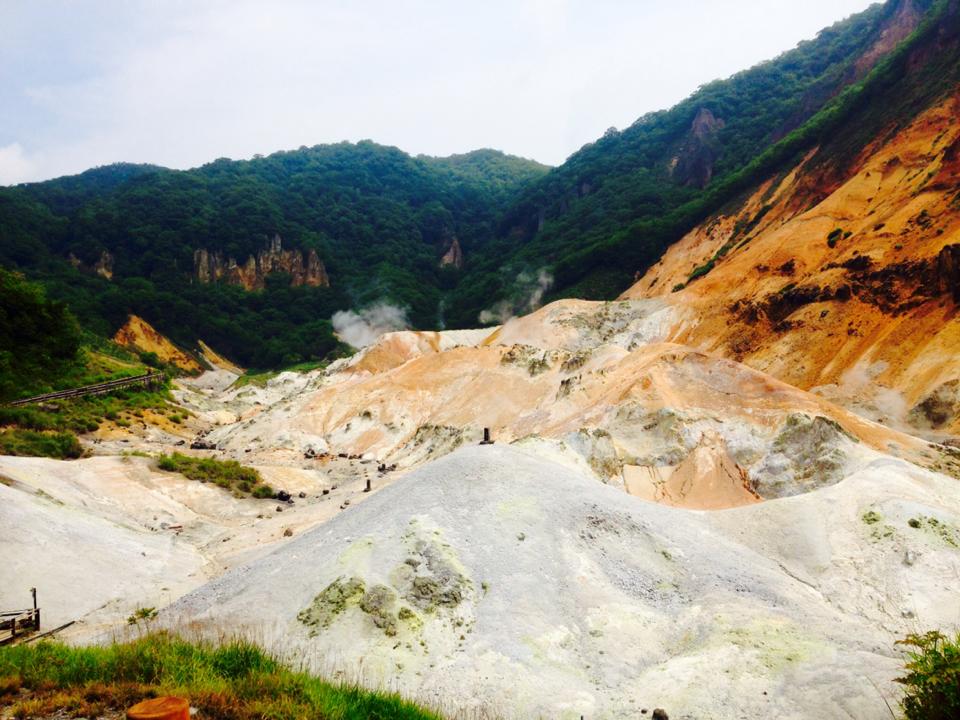 6. Shiraoi Ainu Museum
If you are in the area , I also recommend checking out the Ainu culture village which is pretty close to Noboribetsu. You can find this site on the shores of Lake Poroto, see some Ainu housing, a botanical garden and a traditional museum.
Where? Shiraoi Ainu Museum (WEBSITE)
When? All-year
Transport? The JR from Sapporo is 3,490JPY each way.
Remember, you could also hire a bus with us for a Noboribetsu area tour for the day, starting from 60,000JPY – so if you have a group of 10 or more, it will work out cheaper than public transport per person and give you door-to-door flexibility.
7. Ningle Terrace, Furano
Finally, one of our favourite hideaways in Hokkaido is Ningle Terrace in Furano. Furano is famous for its lavender and particularly busy through the summer months, but Spring is a great time to check out this beautiful collection of shops, cottages, arts and crafts houses and take in the atmosphere.
Ningle Terrace is full of natural timber buildings, in a stunning forest setting, with a great café too.
Where? New Furano Prince Hotel
When? Year-round
Transport? 10 minutes by taxi from JR Furano Station, or there is a bus too.
The cost is 4,400JPY each way on the JR. Our daily prices for bus hire start at 65,000JPY to this area, so again, for a group of 8 of more, you can make some savings on the return journey through direct booking and rental.
May
Finally, if you are coming in May, this is a pretty spectucular month.
And I have one word for you: FLOWERS.
If you are traveling from overseas, I would personally recommend avoiding traveling in Golden Week (Japan's national holiday which is from 29th April – 5th May 2018), as for that week only flights and accommodation will be at a premium. The exception is if you specifically want to come to see the cherry blossoms in Sapporo area – which might well also fall over those dates.
However, if you can wait a couple of days then you really are in for some treats in Hokkaido over the rest of the month.
Let's start with some of the cherry blossom events though, and go from there:
1. Hakodate Cherry Blossom
Hakodate cherry blossom is known as one of the most beautiful places in Japan. Goryokaku Park and Hakodate Park are particularly famous and illuminated in the evenings too.
Where? Hakodate, various places!
When? Estimated best viewing dates: 29th April to 4th May 2018
Transport? If you are coming on the Shinkansen, then you will stop in Hakodate.
If you are flying into New Chitose airport, the train to Hakodate from Sapporo will take about 4 hours and cost 8,830JPY each way.
Hakodate is far from Sapporo – so even for us, our cheapest daily rental on a bus would be around 100,000JPY for the day. If you are travelling in a larger group of 10 or more, it's worth considering for easy transport and the fact it's a return journey though.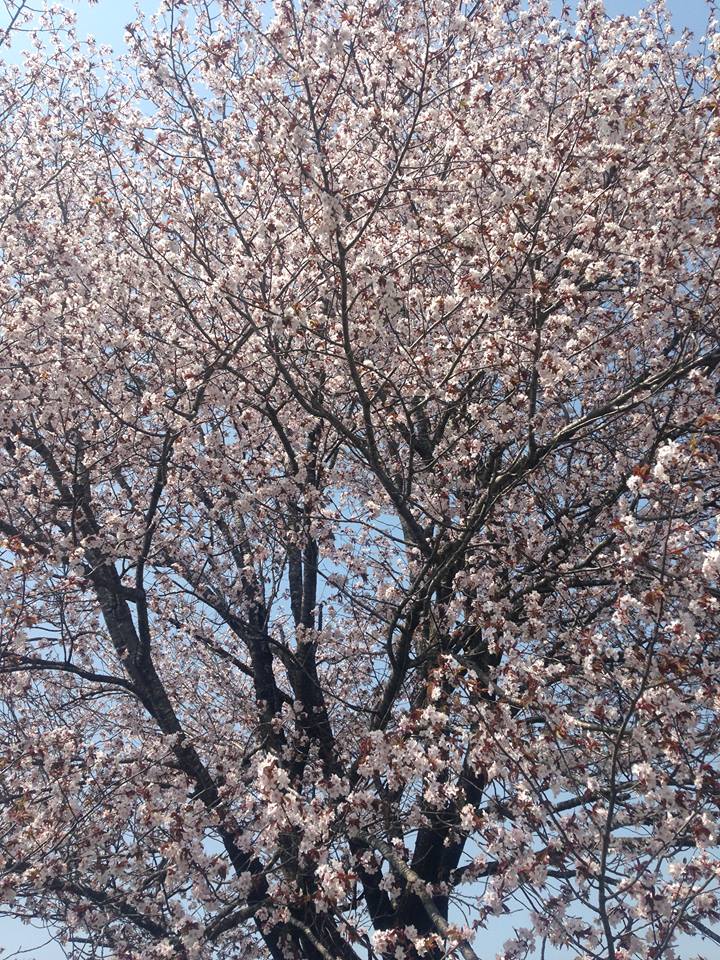 (From early May to mid-May you'll catch the cherry blossoms as you head up to Sapporo and further North and East. I won't cover all the beautiful places in detail, but the Sapporo parks are worth checking out, and heading North to Bibai, or North-East to Asahikawa, are worth considering. Get in touch for some advice if you want to talk through your dates!)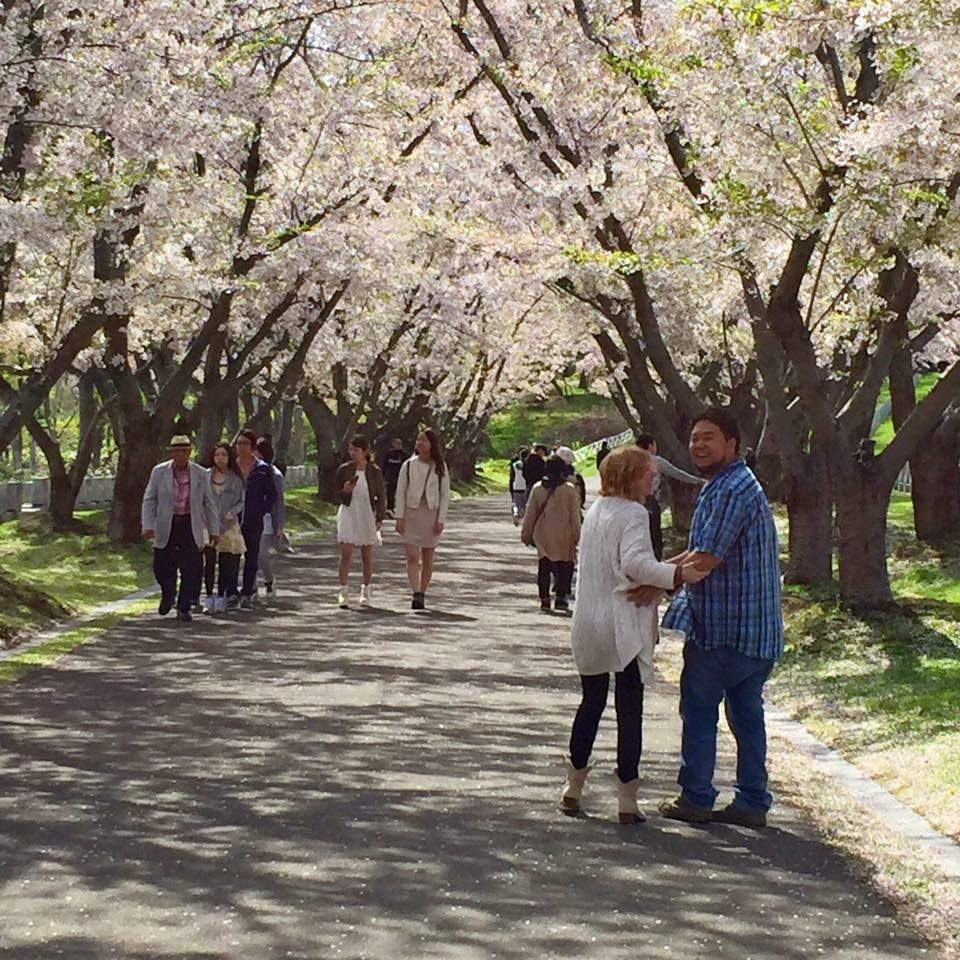 2. Shizunai Cherry Blossom Festival
I will take some time to highlight this place though – because if you love cherry blossom, you are going to want to check out the 3000 trees that line Shizunai Road.
The road is 7km long and there is also a local festival that takes places with food, events and picnic spots.
When? Early May – Mid May
Where? Shizunaitahara to Shizunaimisono, Hidaka
Transport? Hire a car or charter a bus. Definitely.
Our daily hire costs for this area start at 67,000JPY for the day, and you really need the flexibility of driving to make the most of the views here. I want to do a guesthouse tour out here this year, so let's get a group together and go!!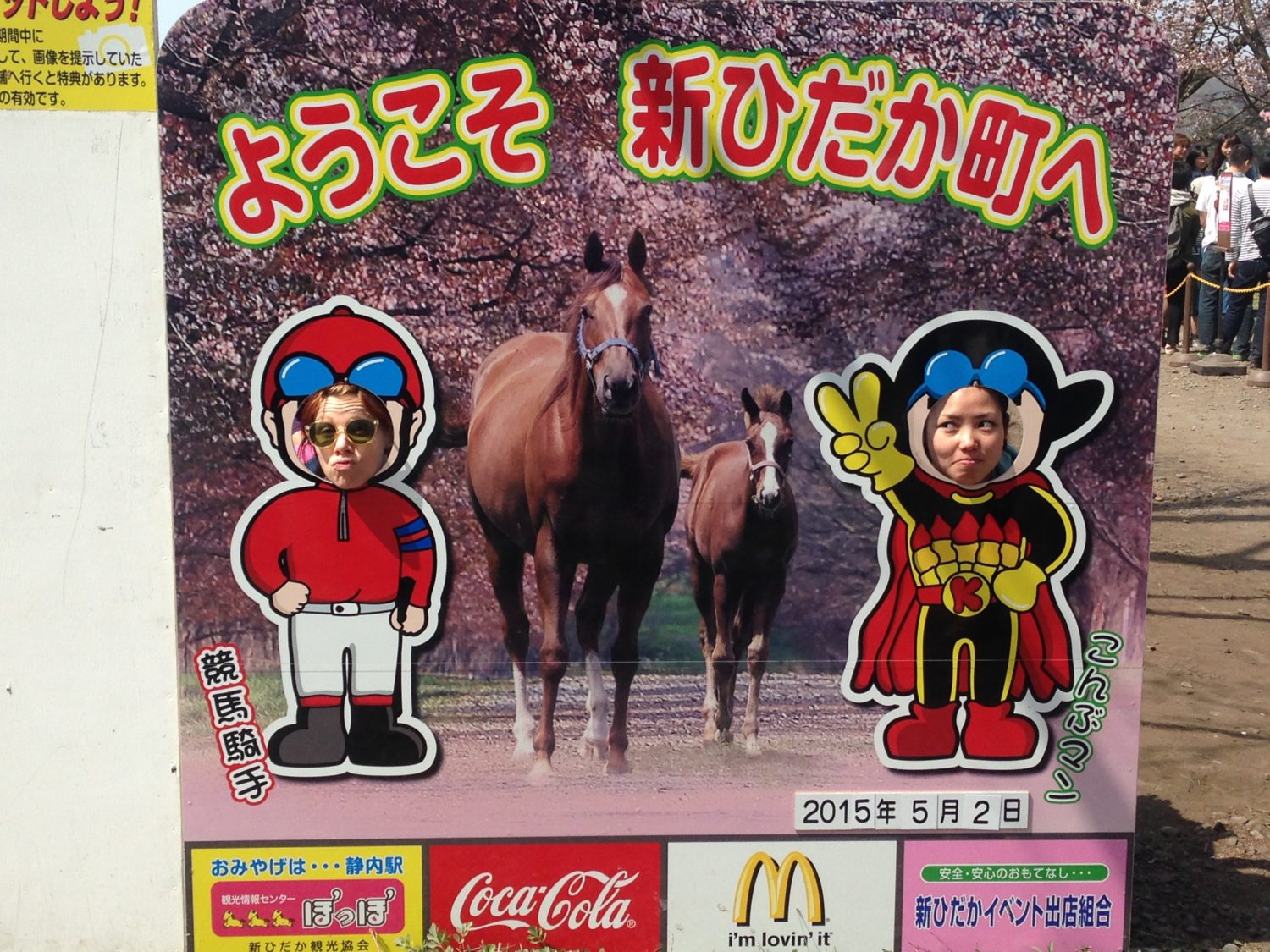 3. Kamiyubetsu Tulip Park
Okay, I super-recommend a few places over in East Hokkaido in May, and this is one of them!
Over a million tulips and over 120 different kinds!! Super, super stunning! This is the same touring-area as the next 2-3 places I'm going to recommend, so definitely take a couple of days and see them all!
Where? Kamiyubetsu Tulip Park, Yubetsu (WEBSITE)
When? 1st May – early June
Transport? Basically, my recommendation is taking 2-3 days and combining some East-Hokkaido viewing to make the most of your trip!
We can help you out with multi-day bus hire at competitive rates, but please email me to talk about your specific group-size and places of interest!
If you are a solo-traveler or in a very small group, it might be seriously worth hiring a car.
4. Takinoue Moss Pink Festival
Takinoue Park hosts a yearly festival called Takinoue Shibazakura Matsuri, which begins in early May and is celebrated through to early June. 100,000 square meters of pink moss start blooming in late April and reach their peak season between mid-May and late May.
Where? Takinoue Park, Mombetsu
When? Early May – early June,
Transport? Same recommendations as above!
5. Higashimokoto Nonky Land Moss Pink Festival
Who can ever get enough of this stunning pink moss filled scenery, right?
Where? Higashimokoto Shibazakura Park, Abashiri (WEBSITE)
When? Early May – early June
Transport? Same recommendations as above!
6. Akkeshi Cherry Blossom and Oyster Festival.
In the last half of May, the 9-day long Oyster festival is held in Nenohi Park. People sit under the cherry blossom and enjoy Fresh or BBQ oysters. A great atmosphere and local event!
Where? Nenohi Park, Akkeshi
When? Late-May
Transport? Same recommendations as above!
7. Sapporo Lilac Spring Festival
Once the cherry blossom finishes in Sapporo, its not long until lilac season.
From mid-May Odori Park and Kawashimo Park hold festivals that are worth checking out – for both the flowers and the local stalls and activities that are going on!
Where? Odori Park and Kawashimo Park
When? Mid-May, around the 17th – late May
Transport? Easy to access by walking or subway in Sapporo!
8. Hakodate Goryokaku Fort Festival
Finally, if you are coming to South Hokkaido in mid-May, you will have missed the cherry blossom, but you will be in time for this local festival!
You can see the commemoration of the 1869 battle of Hakodate, a parade of about 1000 people wearing traditional combat uniforms and other local activities.
Where? Goryokaku Park
When? 19th May – 20th May 2018
Transport? See earlier Hakodate recommendations
There's so much to do, right?
I truly recommend Hokkaido in Spring! Why not come and travel with us?!
And remember, if you'd like a personalised quotation or to book with Social bus, we're just one-click away.