On an average day, Toyako tends to be a sleepy town where you can take in the beautiful views of Lake Toya and even see Mount Yotei peaking out from the clouds. But if you arrived in this quiet town between June 23rd and 24th this year, you may have been surprised to see Pikachu or Totoro greeting you when you got off the bus. Here is our experience and a little bit more about Toyako's Manga and Anime Festa!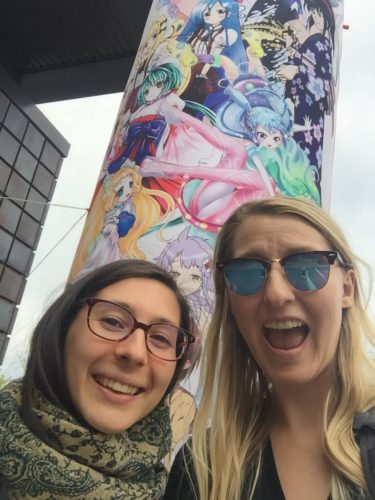 So What is Toyako Manga and Anime Festa Exactly?
Every year Toyako Onsen, located just 2 hours outside of Sapporo, hosts an event that welcomes fans of anime, manga, J-pop, cosplay, food, gamers and even car enthusiasts to the town to live up to their otaku titles and celebrate their love for these things. Usually being run in the month of June, it is Hokkaido's biggest gathering for this genre and runs for two full days. It's an easy place to let loose and meet like minded people, in an environment that is extremely welcoming for all levels of fans. Ranging from people who just want to experience this area of Japanese culture to those who may have over 100 pieces of cosplay in their closet, everyone can enjoy this Festival.
Here Are Some of the Things We Experienced
Cosplay
Cosplay was by far the most popular thing and reason as to why people participated in this festival. Having a place in which people can show off their amazing talents in costume making, celebrating their favourite character or even living someone else's life for a day, this is always a main attraction of these types of gatherings.
As a person who also makes costumes, I can really appreciate the time and effort that people put into making these amazing displays, and let me tell you, the costumes at this festival were next level! We saw so many unique costumes and are pretty sure that we didn't see any repeat costumes, avoiding the awkward 'going to prom in the same dress' moment. The favourite cosplays that we saw were characters from the Monster Hunter games, Zoro from One Piece and a Studio Ghibli's No Face (who hilariously also fist pumped to the music, much to our delight). Paired with the amazing backdrop of Lake Toya, the costumes and characters really came to life!
J-POP Concerts
Maybe my favourite part of the festival was the various short J-POP concerts put on hourly at a stage located waterfront to Lake Toya. The concerts were put on by different local groups that would create costumes, dance routines and lip sync to extremely popular anime and J-POP songs.
The special thing about these concerts in Japan is that they are really welcoming to all people, young or old, and there is no sense of judgement if you want to dance around like nobody is watching. There is also usually some form of crowd participation, wether it be a LED light baton (which is the official name of what we refer to as a light DJ wand…), in which everyone knows the specific movements for each song, chanting, or even seemingly casual conversations with the performers in-between each song. So even if you don't know the songs performed, you'll definitely be immersed and mesmerized by the experience.
Graphic Designed Cars
The graphically designed cars is something very unique specifically associated to the Toyako Manga and Anime Festa. At no other festival have we seen this type of art portrayed on this scale or level, making this event something in which you can not miss. The grounds for the Festa were segmented in to three main areas, the largest being the lining of cars, boats, motorcycles and even scooters, displayed for people to marvel at the art on these various types of vehicles.
Some are a bit more basic, with a central art piece on the hood, but others went all out, decked with art on every inch of the car, including the interior. We were surprised to peer into some of the cars and see themed seats, figurines, TV's playing music videos or even plushies sneaking a peak from under the hood. All in all, you don't really need to be a fan of cars to enjoy this portion of the festival, but you'll leave having a new appreciation once you've seen the pikachu-mobile!
Delicious Food
What would be a Japanese festival if it wasn't lined with food stalls? At the Festa there was a large area dedicated to delicious festival food, but what made it unique is that a lot of the food was specific to Hokkaido, but also sold from vendors from different areas of the prefecture! Eating local food from local chefs always makes it taste better and leaves you more satisfied! We gorged on melon flavoured Hokkaido ice-cream (definitely the best soft serve ice-cream ever), seafood yakisoba, and waffles on a stick dipped in chocolate! And the best part about it is that you could sit back, relax and eat your food while viewing and watching all the cosplayers pass by!
Basically, the Toyako Manga and Anime Festa was a great way to kick off the summer! The team really enjoyed the weekend exploring new and different hobbies, meeting new people, taking in the scenery of Lake Toya, and celebrating common interests with friends! We highly recommend the Festa and will be looking forward to spending another lovely weekend in Toyako next year. We hope to see you there!