Hoshino Resort Tomamu Adventures
If you are planning a trip to Hokkaido, you more than likely have heard about a couple of the 'must see' hot spots. One of those places on your list might be Unkai Terrace or 'The Sea of Clouds', but what most people don't realize is that this phenomenon is a part of the Hoshino Resort Tomamu, in which offer's many other exciting attractions as well! We were fortunate enough this weekend to take a trip to Hoshino Resort and check out all the fun things the resort provides. Here's some insight of what we did during our time at Hoshino Resort Tomamu.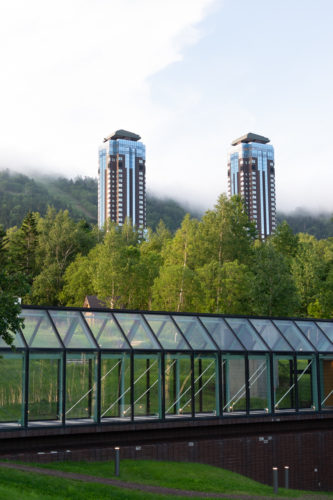 The Trip to Hoshino Resort
Hopping into the car with full backpacks, giddy excitement, old school Japanese rock music and some delicious potato wedges, it really started to feel like a classic road trip. And what would a road trip be without checking out some of the local pit stops and roadside turnoffs? Kama-chan, being born and raised in Hokkaido, knew all the best places to stop and introduced some of the non-Japanese staff to the delicacies produced during summer in Hokkaido. From gazing at rows upon rows of Yubari Melon, tasting Hokkaido melon soft serve and witnessing the immense amounts of memorabilia associated to Melon Kuma (Bear), we started to get the hint that Hokkaido is passionate about their melons.
Other than melons, people from Hokkaido really love to take advantage of their natural spaces! Even though Hokkaido is popularly known for it's winter activities, summer in Hokkaido opens up so many new and wonderful opportunities to get outdoors and enjoy nature. We passed a couple of groups having picnics near the river and even saw some rock climbers preparing for their ascent. The drive to Hoshino Resort is definitely a must see in itself, as the scenery and nature that you witness is quite awe inspiring. The winding road leads you through mountain valleys, past rushing rivers and calm lakes, and gives a great perspective of farm life in Hokkaido.
Luckily when we arrived at our destination we were greeted by wonderful weather and thus itching to get checked in so that we could utilize our good fortune and explore some of the outdoor spaces and activities at Hoshino Resort. Here are some of the pastimes we participated in during our first day at Hoshino!
GAO Outdoor Centre and Ranch
One thing that Hoshino Resort Tomamu does during the summer that is very unique is they convert their GAO Outdoor Centre area into a ranch style setting. They really utilize the large amount of space and fields that they have in this part of the resort and set up some child, family, couple and adult friendly activities.
When initially stepping foot into the GAO outdoor facility, we noticed a couple of structures in the distance, and once we distinguished that they were beds, we raced over, kicked off our shoes and took some time to relax after the journey up to Tomamu. I highly recommend taking a good book and using this space to unwind if the weather is right. It's super peaceful, you have a great view, there's no wait time to use them, and most importantly, they are extremely comfortable!
If this area is being used, or you're not into the hay filled bedding, they also have lots of picnic tables, lounge seats and even hammocks that you can also utilize for the same purpose of getting some relaxation time in.
The area on a whole definitely had a certain charm to it as it felt and looked like we were thrown into the set of 'The Sound of Music'. The fields were covered with blooming wildflowers, the landscape was a lush green colour, we were surrounded by cloud covered mountains and rolling hills, and even had a couple of goats grazing, which really perfected the scene.
Some of the other activities the GAO Outdoor Centre provides are picnic options, canoeing, forest exploration tours, horse back riding, hot air balloon experiences, river rafting, canyoneering and fishing.
Mina-Mina Beach
Next on our list of activities was adventuring to Mina-Mina beach, in which they have a 80 meter long wave pool located indoors. As a group we were pretty excited to go swimming as we hadn't been in a long while, and we were even more surprised to hear that they have a couple of other activities and facilities other then the pool to enjoy.
They allow the rental of inflatable tubes, stand up paddle boards (there is a separate area of the pool reserved for this activity), and they even have a slack line over the pool where you can test your bravery.
Once we were done splashing around in the pool, we chose to head over to the onsen that they have attached to the pool facility. The onsen is nicely situated outdoors close to the forest, giving off a natural vibe and calming atmosphere, which enhanced the warm water's relaxing effects. A bit of a forewarning if you haven't been to an onsen before, is that they do require that you do not wear bathing suits inside the baths, meaning you will be in the nude. However the onsen at Hoshino is separated by male and female, and people are extremely respectful in these facilities. But if onsens are a bit too intimidating for you, they also have some really soothing hot tubs in the pool area that are good alternatives.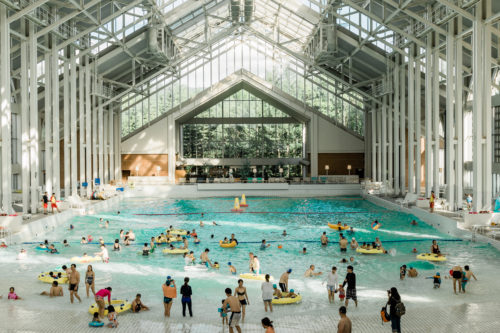 Hotalu Street
Refreshed from swimming and spending time in the onsen, we then decided to walk to Hotalu Street. We want to mention that walking between each area of the resort is super accessible and extremely beautiful. You venture between fields, through forests and over streams, and end up at your destination in what feels like a blink of an eye.
Hotalu Street is also situated in one of these geographically beautiful areas of the Resort, and is nestled in a quaint and lush forest setting. The area consists of wood built, cabinesque, buildings that are either restaurants or stores that you could spend a good amount of time shopping in.
The restaurants in this area have a lot of variety and selection, so everyone will be able to find food that they enjoy. My mouth was watering when we came across the corn stand, where they have a ton of different and tasty corn on the cob flavours. I was salivating even more when we got to watch one of the staff prepare the snack, allowing us to smell the enticing aroma. And if you are keen on trying a unique twist on a Hokkaido specialty, they even offer asparagus soft serve ice-cream…
Dining
Looking at all this food had our stomachs grumbling so we walked the short distance to Nininupuri Forest Buffet Restaurant. There was a huge variety of food, ranging from western style cuisine to Japanese delicacies, and even had some options for vegetarians and vegans. We were successfully stuffed to the brim from eating so much but had to make room for their dessert, seeing as they had a chocolate fountain!
Special Event
To cap off the night in the most perfect way, we were treated to one of their special summer specific events, fireworks! Before the lighting up of the sky they had a local violinist play in the courtyard, where you could cuddle up on one of the lounge sofas with a blanket, watch the bonfire crackle and listen to the performance.
Following right afterwards is the short fireworks display that you can view right outside of the hotel or from your room. And to finish off the special event, the staff in the lobby were handing out marshmallows to roast over the fire, creating a communal atmosphere and the perfect ending to the day.
Day two started at the crack of dawn, with the group waking up at 4:00am to head up to the famous Cloud Terrace. We were forewarned that we would have to get up quite early if we wanted to see the 'Sea of Clouds' at it's best, thus we donned our warmest sweaters and set out on our morning adventure!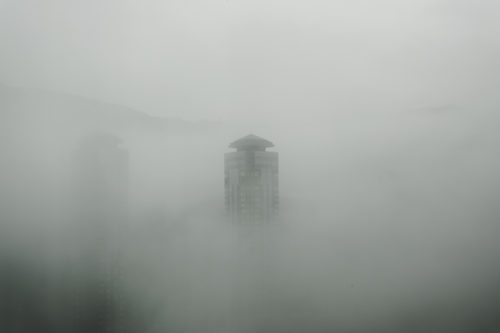 Unkai Terrace
There is a bus that transfers guests from the hotel to the gondola in which takes you to the top of Unkai Terrace. If you want to make it up for sunrise, I advise you to get up earlier then we did as there are many people who want to get to the top at this time and there will be a long lineup.
After patiently waiting (because we were half asleep) to get onto the gondola, we stepped inside our lift and made the ascent to Unkai Terrace. While going up, you are able to take in a panoramic view of the surrounding areas before you vanish into the mist and clouds. We were pleasantly surprised to see some wildlife too when we were going up the mountain, as a cute baby deer and it's family were grazing and frolicking near the base.
Once at the top we explored a couple of the different terraces and other unique viewing platforms that they have if you embark on a small hike. The day that we went up was quite misty and rainy so we didn't get to see the cloudy phenomenon you see in all the photos, but we had a unique and equally impressive misty view of the other mountains and the valley below. Even though it wasn't what we expected, the view of the surrounding scenery alone is definitely worth seeing and was extremely fun!
At the terrace they also have a few facilities worth visiting, like the post office where you can buy a postcard and get shipping and postage stamps for free! They even send mail internationally so it's a unique and affordable way to tell loved ones about the cool experience you just had.
And once you have worked up an appetite you can head back down to the buffets that conveniently open just as you descend from the terrace. Chow down like we did and enjoy a super hearty breakfast, because you will have deserved it!
To note, if you stay at the resort many of the activities such as Mina-Mina beach, GAO Outdoor Ranch, and the Unkai Ropeway are included and free. But even though we recommend staying a couple of days to explore everything at the Resort, you can still access these facilities even if you aren't staying at the resort by paying a fee.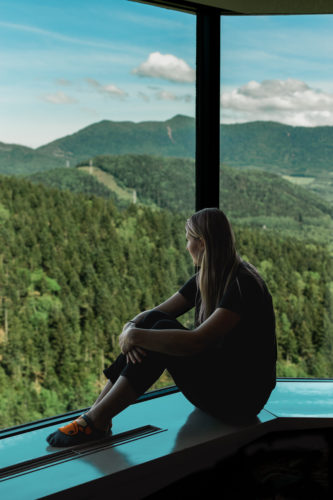 All in all our trip to Hoshino Resort Tomamu was extremely amazing and we enjoyed every minute of it! We hope to make it back to Hoshino Resort again this summer as there are still so many things to do and explore, but also want to make a trip in the winter to participate in their fun winter activities like skiing at their hill and witnessing the intricate Ice Village they make every year. And hopefully we can make the trip with some of you in the future too!