Get Inspired: A Hokkaido Summer Sample Itinerary
We know that planning a trip can be a bit daunting, especially when considering all the time and effort involved even just to figure out where you would like to go. But Social Bus is here to help give you some ideas and inspiration for your summer trip to Hokkaido! Here is a sample of a tour that you can plan and execute with Social Bus this season to optimize the warm weather and the seasonal spectacles that come with it!
Our Destinations
The two main areas that we ambled through on this excursion was Biei and Furano, which are two cities located in central Hokkaido. Known for their exceptional landscapes in the summer, you will be treated to the view of lush grasslands, rolling hills, vibrant flowers and mountains awaiting in the distance. These cities and it's sceneries are highly sought after in the summer time due to it's beauty and calm atmosphere. If you are looking for a day to spend outside enjoying nature and the sights, this may be the ideal trip and locations for you!
Patchwork Road
The first area we explored was the scenic drive through Patchwork Road, a stretch of parkway donned with farmland on either side. What makes this unique and a must see destination is the layout of the pastures bordered by majestic larch trees, and alluring flower parks. You can enjoy driving, through the winding roads, stop at the roadside turnoffs to capture the perfect photo or take in the splendour from atop the Hokusei Hill Observatory.
The view of Mt. Tokachidake from here is also remarkable and one of the best, so if you are keen to get a good look at an active volcano this would be a great place. Being immersed in this relaxing atmosphere is an exceptional way to start off and set the mood for the rest of the day!
Blue Pond
Our adventures then took us the short distance to the famous Blue Pond! With the large amounts of rainfall happening in Japan, the Blue Pond's appearance was slightly altered the day that we went. It was a strange but enticing phenomenon as the lake had changed from it's well known iridescent azure colour to a mellow green. The change in colour was a bit of a treat as it allowed a beautiful reflection of the bright blue sky that we had that day.
Even though the pond went through a cool temporary colour change, we do love the usual other worldly blue colour that it is on a normal day. With the larch and birch trees protruding from the beautiful pond you are overwhelmed with a magical and whimsical sensation, almost as if you were transported into your favourite fairy tale!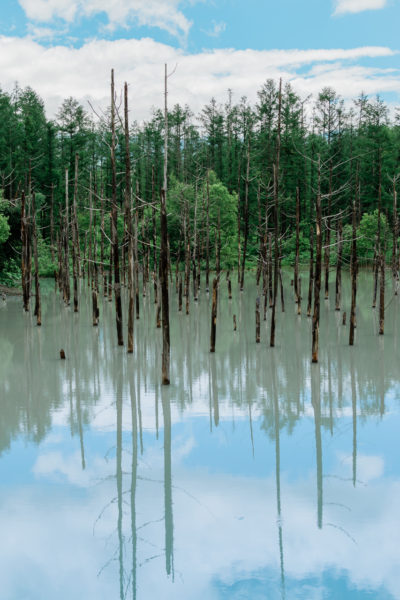 Herb Hill
With our sights set on grabbing some food to satisfy our hungry stomachs, we then made our way to Herb Hill Furano. The restaurant here is a great stop in the summer as you can taste the popular Yubari Melon not only once, but as much as you want! They have an option for 'all you can eat' melon, so you can definitely get your fix, and it is perfect if you want to challenge your fellow travellers to an eating competition like we did. Just make sure you save some room for the special treat that you can have at the next location!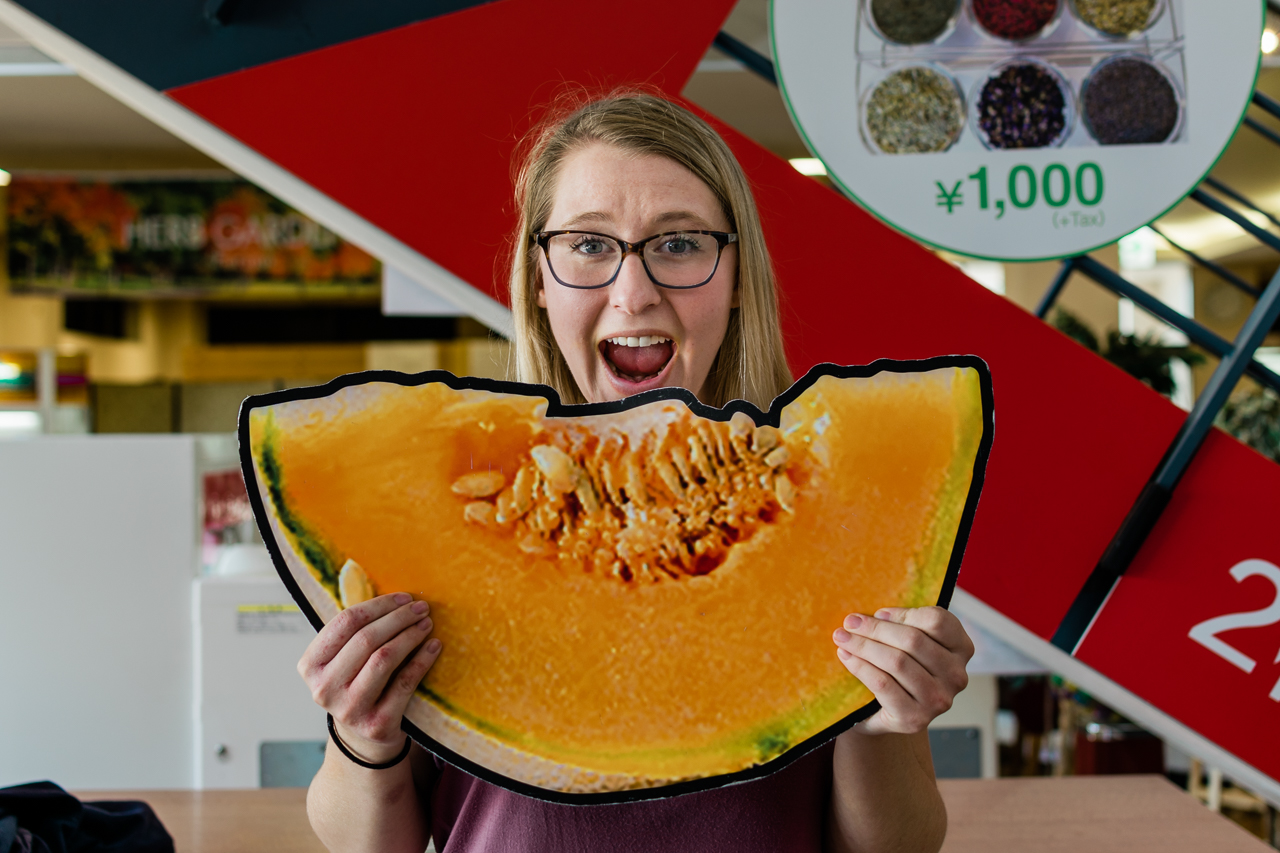 Farm Tomita
Next on the list was a location that you can visit all year round, but really comes alive during July and August! We took our travels further into Furano to Farm Tomita to experience the vast lavender fields and blooming seasonal flowers. There are a couple different flower fields that you can wander through, but at this point of the year the lavender takes the main stage, and will soon be at it's peak bloom.
The farm on a whole is a really nice place to wind down and have a soothing stroll through. The variety of flower fields that display vibrant coloured flowers ranging from yellow to purple, watching harvesters in the fields, the artisan craft stores and the snack shops allow you to spend a nice afternoon enjoying the outdoors at a leisurely pace.
And like we mentioned before, make sure you save some room for the unique lavender flavoured soft serve ice-cream that they sell here, it's one of our favourites!
Ningle Terrace
To wrap up our travel experience, we went to Ningle Terrace which is a boardwalk through a forest that has cute and quaint cabins that sell locally made products and crafts. The merchandise sold is unique, quirky and even a bit unusual at times, but they make for great gifts or as a way to remember your trip to Hokkaido!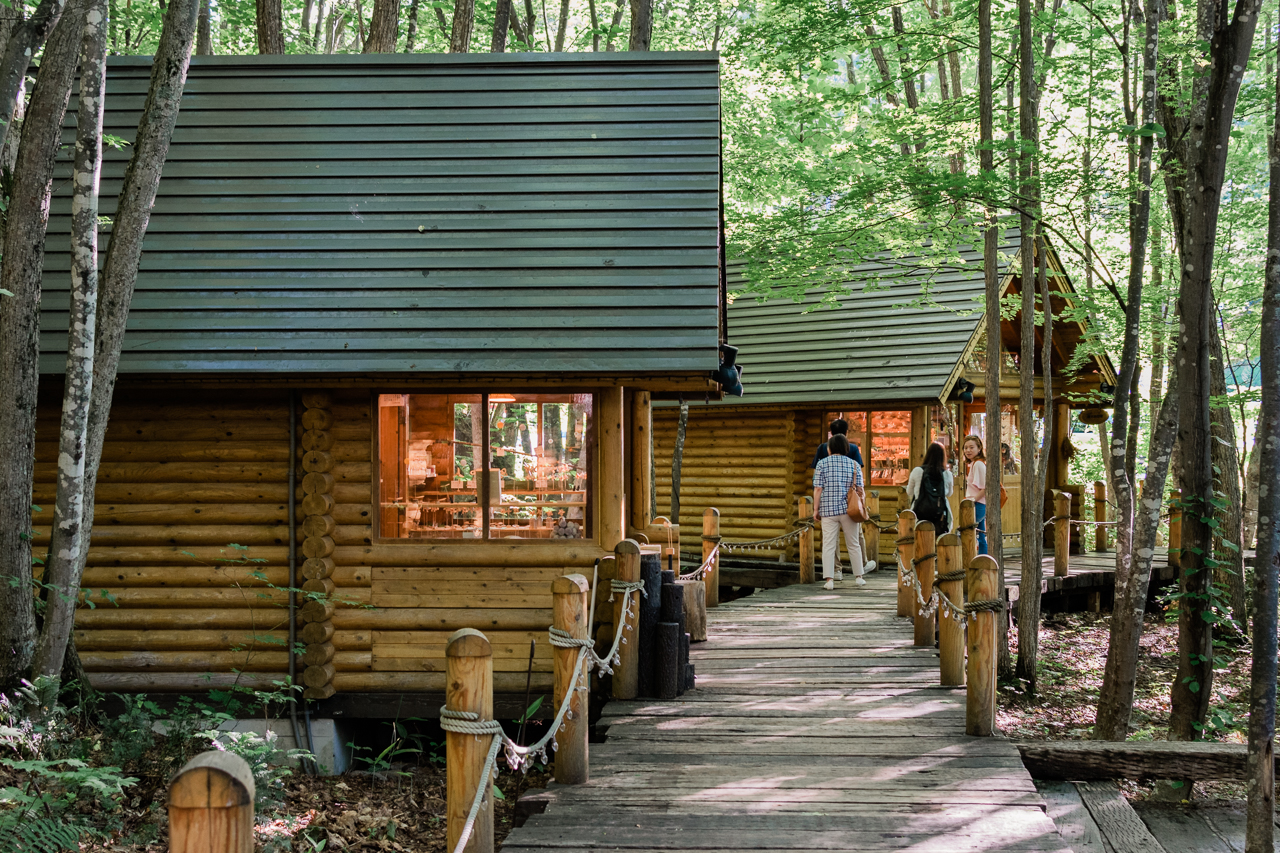 We hope this sneak peak into our latest trip will help inspire your trip planning. We love Hokkaido in the summer and hope to help you execute your memory making adventures this season!