A rundown of Hokkaido's best summer events!
The great thing about summer events in Japan is that admission is usually free! You can soak up the summer atmosphere as much as you want!
(However, be sure to bring plenty of extra money for food and drinks as with the increased festival prices, things can add up pretty quickly.)
June
Oni Fireworks Festival
Throughout the summer season, Noboribetsu Hell Valley lights up with fireworks every night. It's a great way to make the most of an overnight stay at some of the best hot springs Hokkaido has to offer.
The fireworks take place from June 1st to August 7th every Thursday and Friday starting at 20:30.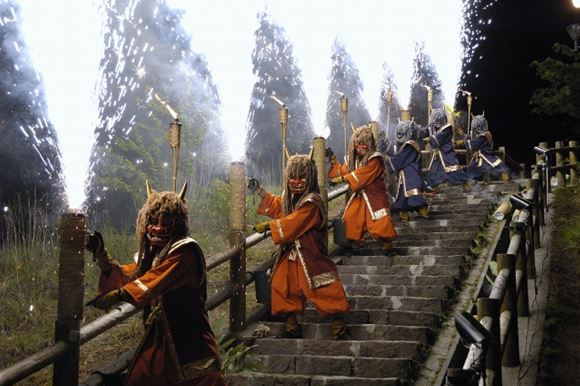 Shiraoi Beef Festival
This festival is awesome! Enjoy a variety of Japanese black beef, cooked in all kinds of ways! And also watch some great local live stage events to set the atmosphere.
The festival takes place on June 2nd-3rd, being open from 9:30-17:00 on June 2nd and 9:30-16:00 on June 3rd.
Yosakoi Soran Festival
Held in the city of Sapporo, over 30,000 dancers participate in this multi-day dance festival and competition held from June 6th-10th. The main festival stage in located in the center of Sapporo, at Odori Park, but the dancers also take to local streets throughout the city. It's a spectacular event!
Hokkaido Shrine Festival
From June 14th-16th in the city of Sapporo, the Hokkaido Shrine Festival is an authentic traditional Japanese festival experience, full of open stalls, street processions and a great atmosphere. Taking place in two separate locations you have the option to visit the more lively Nakajima Park location, or the quieter space of Maruyama Park.
July
Sapporo Pacific Music Festival
Founded in 1990 by legendary conductor Leonard Bernstein, and taking place from July 7th to August 1st, the Sapporo Pacific Music Festival offers many ways for you to enjoy amazing live music. Be sure to plan ahead though as tickets are only available until 4 days before the concerts. Online ticket purchase is available 24 hours a day.
Yakimonoichi Ceramic Festival
Held the 2nd weekend in July, the city of Ebetsu becomes home to numerous handmade crafts displayed in stalls and tents throughout the city. Be sure to check this out for a great shopping and display experience!
Kamifurano Lavender Festival
Taking place on July 14th, right in the middle of peak lavender season, enjoy a day celebrations and activities based around Furano's famous Lavender. The event takes from 10:00-22:00 at Hinode Park, a 15 minute walk from JR Kamifurano station.
Sapporo Summer Festival
From July 20th-August 17th soak in the summer atmosphere and enjoy a variety of local beers and food in Sapporo's Odori park. It's one of the most lively festival atmospheres of the year and well worth checking out with friends.
Shiretoko Shari Neputa Festival
Taking place July 20-21st in the city of Shari in Eastern Hokkaido the Neputa Festival offers the view of an illuminated float parade covering 2.5km throughout the city streets. The parade consists of 15 Ogi Neputa Floats, some as tall as 8 meters!
Furano Belly Button Festival
You have to see it to believe it, but it's definitely worth checking out in this only-in-Japan celebration… of your belly button! Taking place in Furano from July 28th-29th enjoy seeing views of entire stomachs painted like faces, and dances celebrating the belly button!
Toyohira Fireworks Festival
On July 28th come view Sapporo's biggest summer Fireworks event! Taking place on the Toyohira River. The festival has over 4,000 fireworks so it is a must see for those wishing to see summer fireworks in Japan.
August
Sounkyo Gorge Fire Festival
Experience a summer festival passed down from the Ainu, the native peoples of Hokkaido and North-Eastern Honshu. Taking place from July 29th- August 15th in the town of Kamikawa the festival offers a view of traditional Ainu dances and ceremonies.
Hakodate Port Festival
Fireworks and events make the already fabulous southern city of Hakodate even more memorable from August 1st-5th. The fireworks take place August 1st from 19:45 to around 21:00. The parade takes place on August 2nd and 3rd from 16:00 to around 21:30. With over 20,000 paraders you are able to view a variety of festival dances including the traditional Hakodate Port Dance, Yosakoi dance, and Squid Dance, a dance so easy spectators are invited to join in and dance together!
Susukino Festival
From August 2nd-4th enjoy an outdoor food and drink festival in Sapporo's main nightlife area. The festival also offers the viewing of traditional processions and music performances to enjoy.
Sapporo Summer Festival – Obon
Celebrating the Japanese Holiday of Obon, in Sapporo's Odori Park from August 11th-17th enjoy a variety of summer stalls and a spectacular view of tradition Obon festival dancing.
Kachimai Fireworks Taikai
On August 13th enjoy one of Japan's largest summer firework events! Taking place on the Tokachi River, from around 19:30-21:00 you can view a spectacular event of over 20,000 fireworks synchronized with lights and music!
Jigoku Festival
On the 25th and 26th of August experience Noboribetsu's Hell Festival. Called "Jigoku Matsuri" in Japan, this summer festival is full of great activities and events to enjoy such as mikoshi, the carrying of a divine palanquin, and the hellish Demon Dances.
September
Kushiro Ramen Festival
Located in the City of Kishiro in Eastern Hokkaido, on September 1st and 2nd experience the tastes of dozens of different ramen shops! Open September 1st from 11:00am-1:00am and September 2nd second from 9:00-15:00 each bowl of ramen will cost you around 550 yen.
And that's a wrap! Feel free to contact us for more information on any of these events, and we would love to help you with your transport about the area this summer!