5 of the best places to see Hokkaido flowers this summer.
Today's blog post is brough to you by our Social Bus intern, ウィル ( Will ). He's going to be introducing his own blog series over the next few months, so keep watching for more of his Hokkaido adventures!
Today we're recommending the top 5 places to see some stunning Hokkaido flowers this summer! Come and travel with Social Bus this summer!
Shikisai-No-Oka
Located at Oka-no Machi in the town of Biei, and covering 15 hectares, Shikisai-No-Oka is a farm offering the view of dozens of different species of flower.
During the summer viewing period of July-August amongst many other species, you can get a breathtaking view of Peony, Marigold, Petunia, and Kikarashi.
While you are free to tour the farm on foot, due to its size Shikisai-no-oka offers 3 forms of motorized transportation. The main form is the Norokko tractor bus offering a 15 minute tour, and a stop for pictures, of the entirety of the flower garden.
The Norokko is free for anyone under elementary school age, 300 yen for elementary and middle school students, and 500 yen for anyone high school age and over.
If you prefer to explore the garden on your own, a driver's license is required, and personal carts are available to rent for 15 minute periods. The carts come in 3 sizes, 2 seats for 1,500 yen, 4 seats for 2,000 yen, and 5 seats for 2,500 yen.
The other option for exploring on your own by vehicle are the 1 or 2 seat buggies. However rather than the viewing the flower garden, the buggies are for the use of viewing the Shikisai-No-Oka White Birch Garden, on a 1km course. You have to be 16 years or older to drive the buggies, with a 1 seat buggy costing 500 yen and a 2 seat buggies costing 800 yen.
While at Shikisai-No-Oka don't miss to chance to pet and feed the alpacas at the Shikisai-No-Oka alpaca ranch!
Admission to the alpaca ranch is 500 yen for anyone high school age or over, 300 yen for elementary and middle school students, and free for anyone under elementary school age. One hand of feed costs 100 yen.
If you are traveling without a car consider bringing fare for a taxi as the nearest station is 25 minutes on foot. If you decide to use a taxi, remember to get off at Biei Station as it has taxis which wait at the station.
However if you are traveling with a group of 7 or more people, our charter buses will offer a more reasonable rate than public transport, so, if you like, contact us for more info!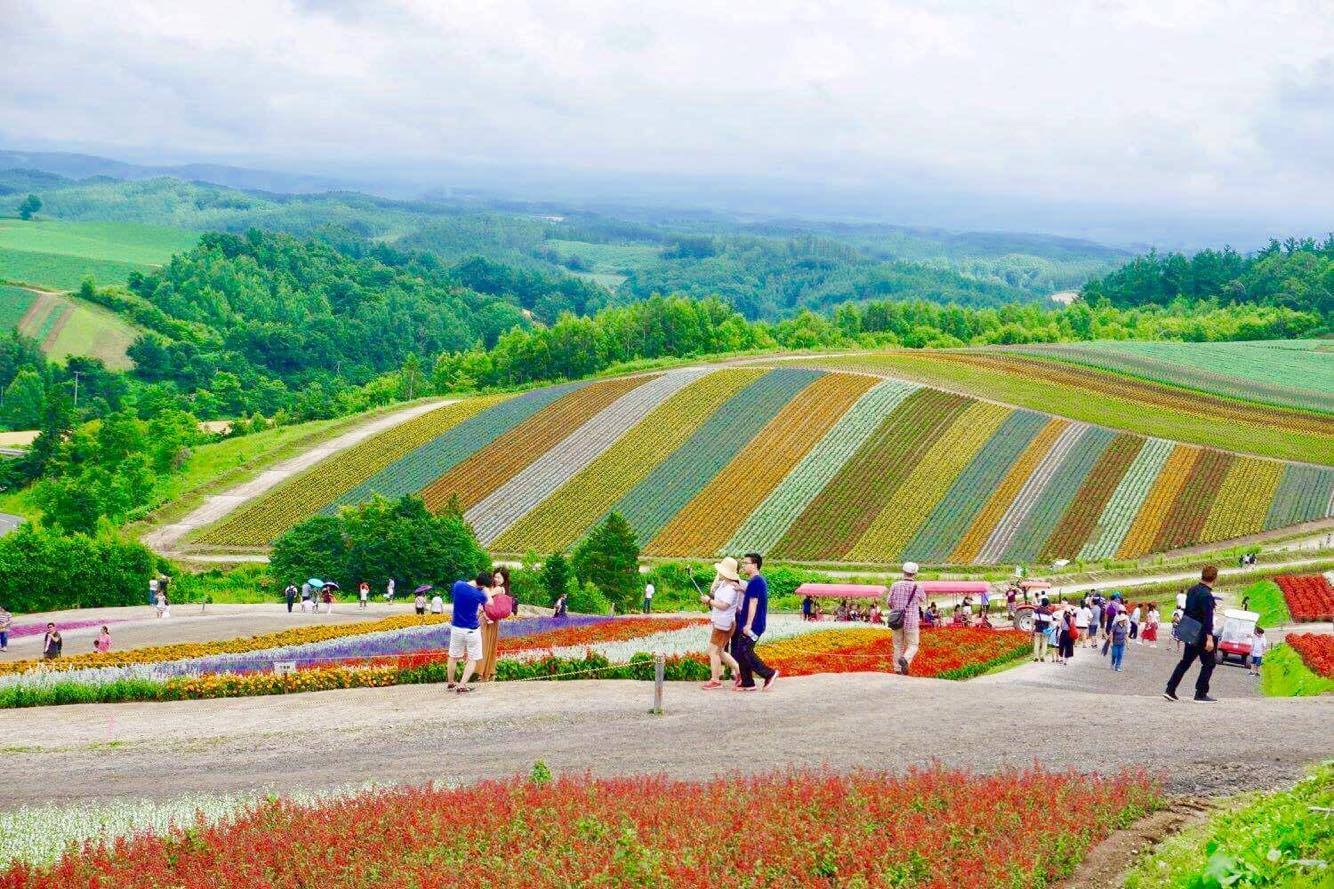 Farm Tomita
When it comes to Lavender in Hokkaido it has to be Farm Tomita.
Located at Furano Valley in the Higashinaka District, during the month of July Farm Tomita offers the best lavender viewing you can get in Hokkaido. While Farm Tomita offers many different places to view its lavender, Lavender East, the birthplace of Lavender Cultivation in Furano, has got to be the best.
Opened during July from 9:00-16:30 and covering 14 hectares, .14 kilometers, it offers multiple ways to see and enjoy the lavender.
If you prefer to explore on your own, the best views you can get are on the Observation Deck located just inside the entrance. It provides you with a view of over 90,000 lavender bushes.
However, for only 200 yen, 100 yen for children aged 4-12, (anyone under free), you can take a guided tour of the farms aboard the Lavender Bus, a carriage drawn by a, fittingly, lavender colored carriage.
It offers a gorgeous 15-20 minute tour of the fields.
While you're there don't forget to stop by the Lavare House for Farm Tomita Gifts and exclusive lavender white chocolate soft-serve ice cream.
The farm is accessible by Chou Bus and JR Line with only a short walk from both the bus and train stations near the farm, taxis are also available.
However if you are traveling with a group of 7 or more people, our charter buses will offer a more reasonable rate than public transport, so, if you like, contact us for more info!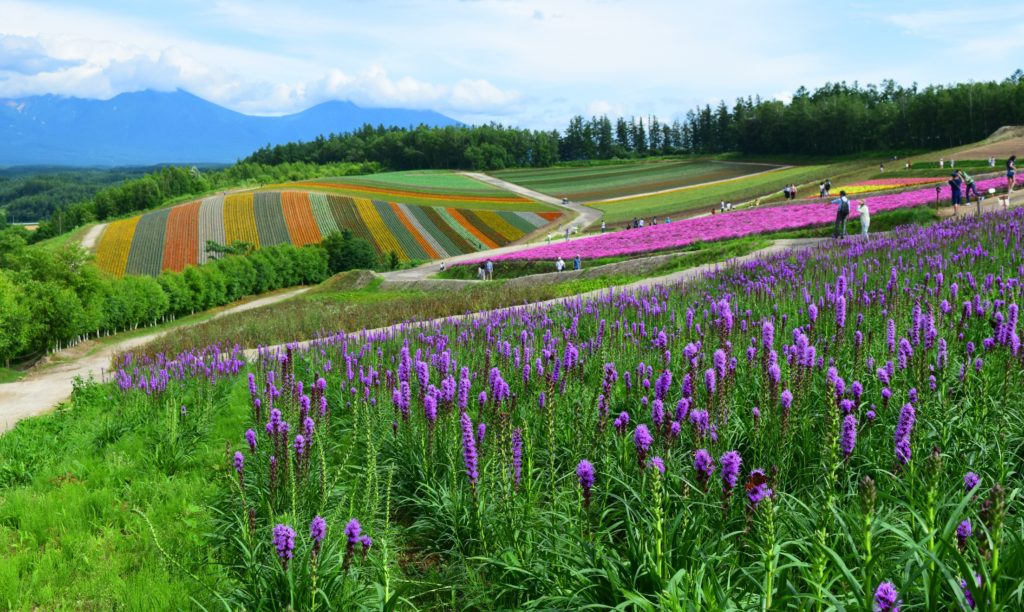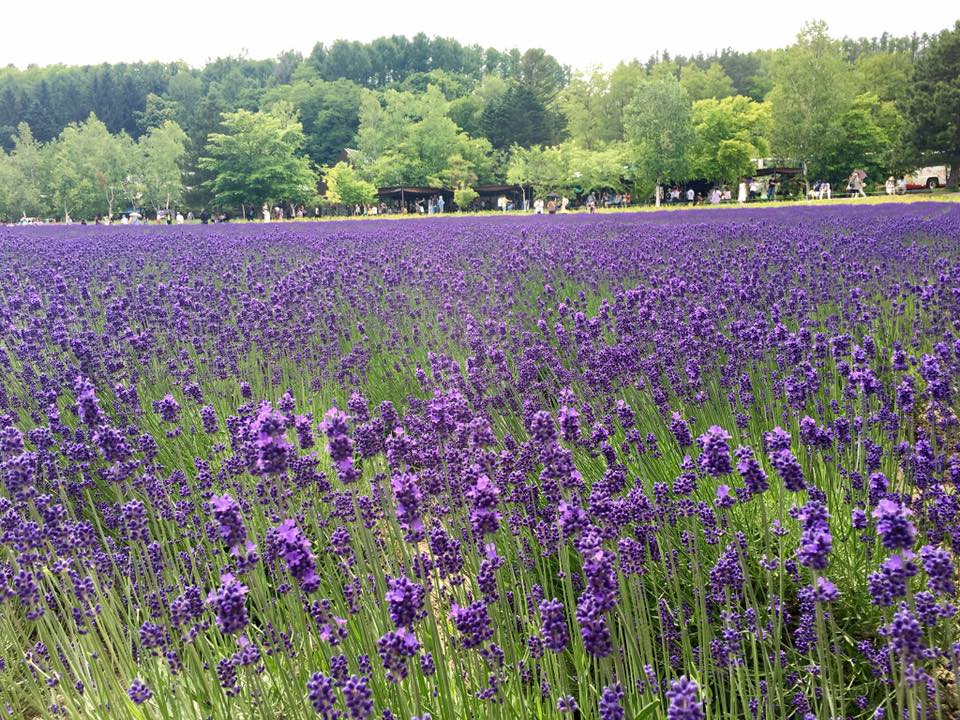 Koshimizu Gensei Park
Located between the Sea of Okhotsk and Tofutsu Lake in North-Eastern Hokkaido the Koshimizu Gensei Park is a naturally occurring flower garden across 240 km of sand dunes.
While there are over 40 different different types of flowers to see at Koshimizu Gensei, it is one of the best places to see Hokkaido's official flower, the rosa rugosa, known in Japan as Hamanasu.
From mid-June through July the Hamanasu are in full bloom and at Koshimizu Gensei you can clearly see why it was made Hokkaido's official flower.
While you are able to get around the flower gardens on foot without problem, the visitors center, named Hana, offers free bicycle rentals among other services such as a rest area and cafe.
Admission to Koshimizu Gensei is free and while the nature preserve is open 24 hours a day, the visitor center is only opened during the viewing season of May-September from 8:30-17:30.
Getting there can be difficult due to the distance from major cities, however, using a charter bus can offer you a simple way to reach this gorgeous location. Please contact us for more info.
Himawari No Sato
Located in Hokuryu town and founded in 1989 Himawari No Sato is the largest sunflower field in Hokkaido.
With 23.1 hectares of sunflower fields, when the sunflowers, called himawari in Japan, are at full bloom at Himawari no Sato you can see 1.5 million individual flowers.
Peak viewing season is during the beginning of August, but you are able to start to see newly blooming flowers at the end of July. While entrance to the sunflower garden is open 24 hours the visitors center and Sunflower Maze, costing 300 yen and taking place place from late July through August, are only open from 8:00-18:00.
The visitor center offers souvenirs and food and drink, as well as free wheelchair and stroller rentals.
While you are free to walk around the gardens on your own there is also an observation tower accessible by wheelchair that you can also use to get a view of all 1.5 million of Himari no Sato's glowing flowers.
Getting from the nearest station to Himawari No Sato can require about 20 minutes of walking or the use of a taxi.
With the included cost of public transportation, when traveling in groups of 7 or more people, our charter buses may be a more reasonable form of transportation. For more information, feel free to get in touch and we'd love to travel with you!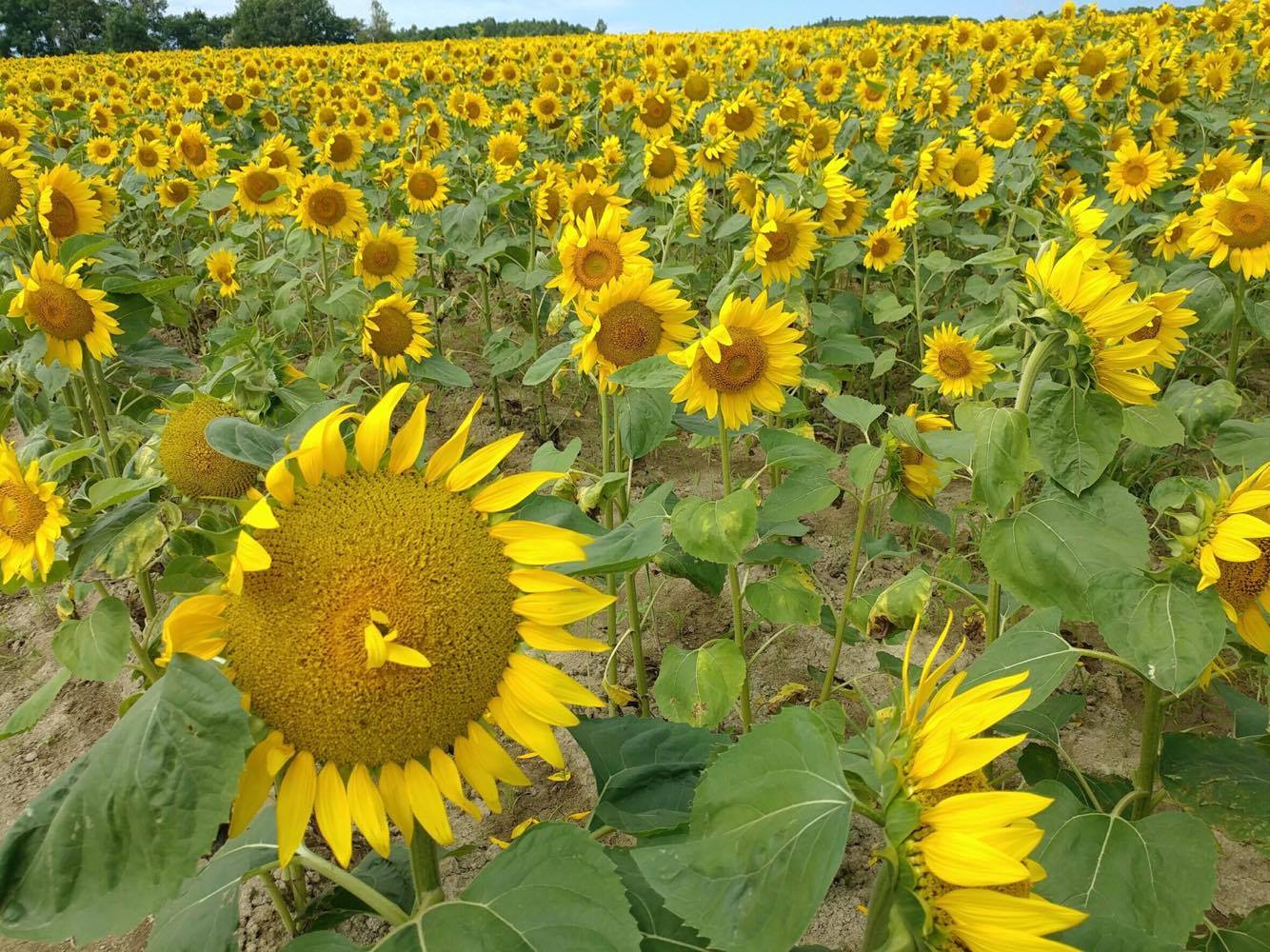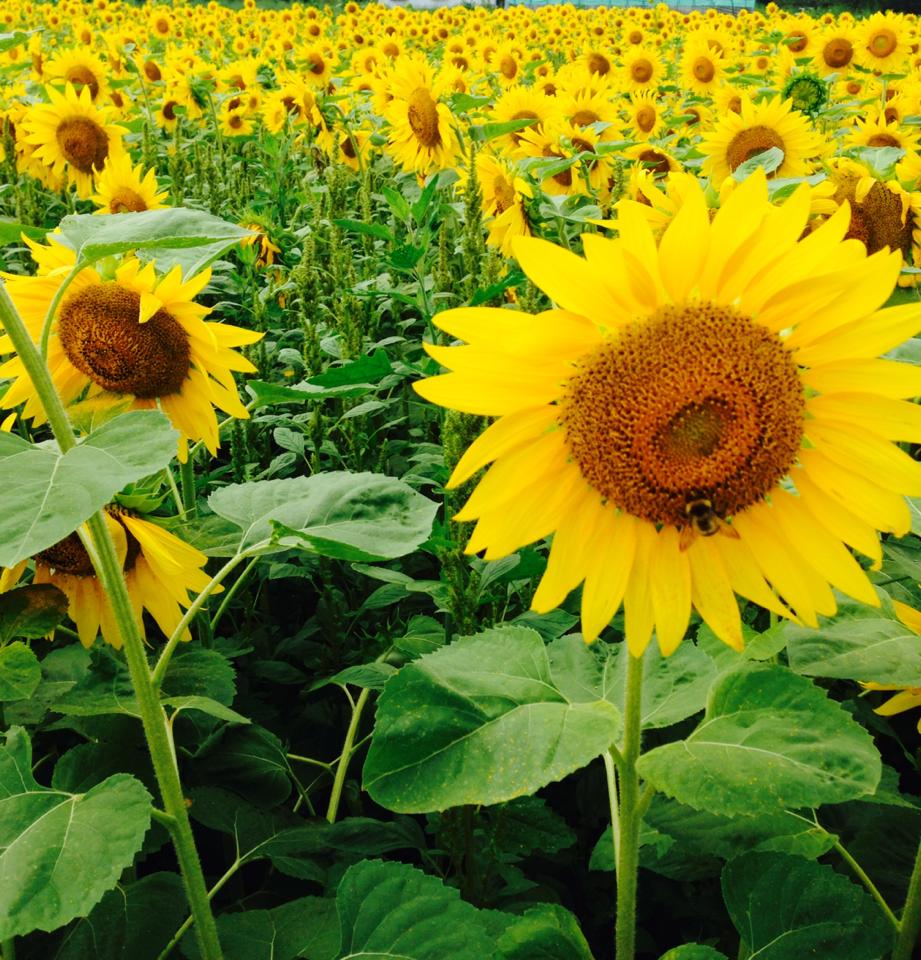 Onze Harukayama Lily Park
Located only 40 minutes away from Sapporo by JR line in the historic seaside town of Otaru, Onze Harukayama Lily Park provides a view of over 50 different species of Lily.
Open from July 8- August 20, 9:00-17:00 the entrance fee to the Lily Park is 400 yen for adults, 200 yen for children and free for any persons with disabilities.
With the viewing area of the lilies being mostly on hills, the Lily Park offers scenic lift rides up to an observation deck and cafe, though walking on your own is also ok.
The lift ride costs one way, for adults, 500 yen (800 yen roundtrip) and for children, 300 yen one way (400 yen round trip ). The lifts are able to take 4 people on each trip going uphill and 2 people on each trip downhill.
For persons with disabilities, for 500 yen roundtrip, the Lily Park offers a small bus with a maximum seating of 7 people for getting up to the observation deck and cafe.
The Lily Park also includes a shop to buy over 36 kinds of lily seedlings and grown plants as well as a souvenir shop and children's play area. While the Lily Park is relatively easy to reach by public transportation, if you are traveling in large groups or prefer a more personalized form of transportation, a charter bus may be a better option for you, so please contact us for any more info.
Hokkaido summer flower season is such a great time and we'd love to help you plan your travel. For day tours, multi-day tours, and full bilingual support – get in touch with us at info@social-bus.jp for your personalized travel plan!