5 foods you HAVE to try in Hokkaido.
Hokkaido.
A.k.a. Beautiful land of delicious treats, food so fresh it makes your mouth-water, and an abundance of A-MAZING cafes, restaurants, food-stalls, markets, you-name-it-we-got-it-food-providers. 
A foodie's living, walking, dream.
Now, I could talk about Hokkaido food all day… Because, you know? I live here, I love it, and I'm pretty much always hungry.
BUT, I want to imagine that you only have a select period of time in which to come, eat, travel and experience the highlights. It's difficult, but I guarantee that if you eat right, you'll want to come back to visit again and again.
I actually guarantee it.
Now, today I don't have the space to get too specific. Each of these foods could actually be their own blog post, and this list is in no way comprehensive.
I do recommend more specific food experiences like the fresh butter sweetcorn from Odori Park vendors in the summer, the variety of fruit-picking (and eating) that you can join easily throughout summer and autumn, and the local dairy farms that mean you can try fresh cheese and milk on hand. But they are topics for another day (feel free to contact me if you can't wait and want the information NOW though!)
For now, here is my rundown of 5 foods that you literally MUST try when you're in Hokkaido, and make sure to tick off the list. Maybe even more than once.
1. Hokkaido Ice Cream
Okay, so being a girl with a sweet-tooth, and a huge fan of all things dairy-related, I want us to start with a true Hokkaido highlight.
The ice cream. 
Oh. my. word.
There are too many varieties to count. Standard soft cream. Soft cream on fruit. Farm-made-ice-cream. Parfait-to-die-for. I could go on and on…. And on.
I also realised in the course of writing this blog, that I have SO many ice-cream pictures. No joke. It must be one of the most photographed items on my iPhone.
I could also recommend at least 20 places or more to go to have a great ice-cream experience….
But, below are just a few suggestions to get you started.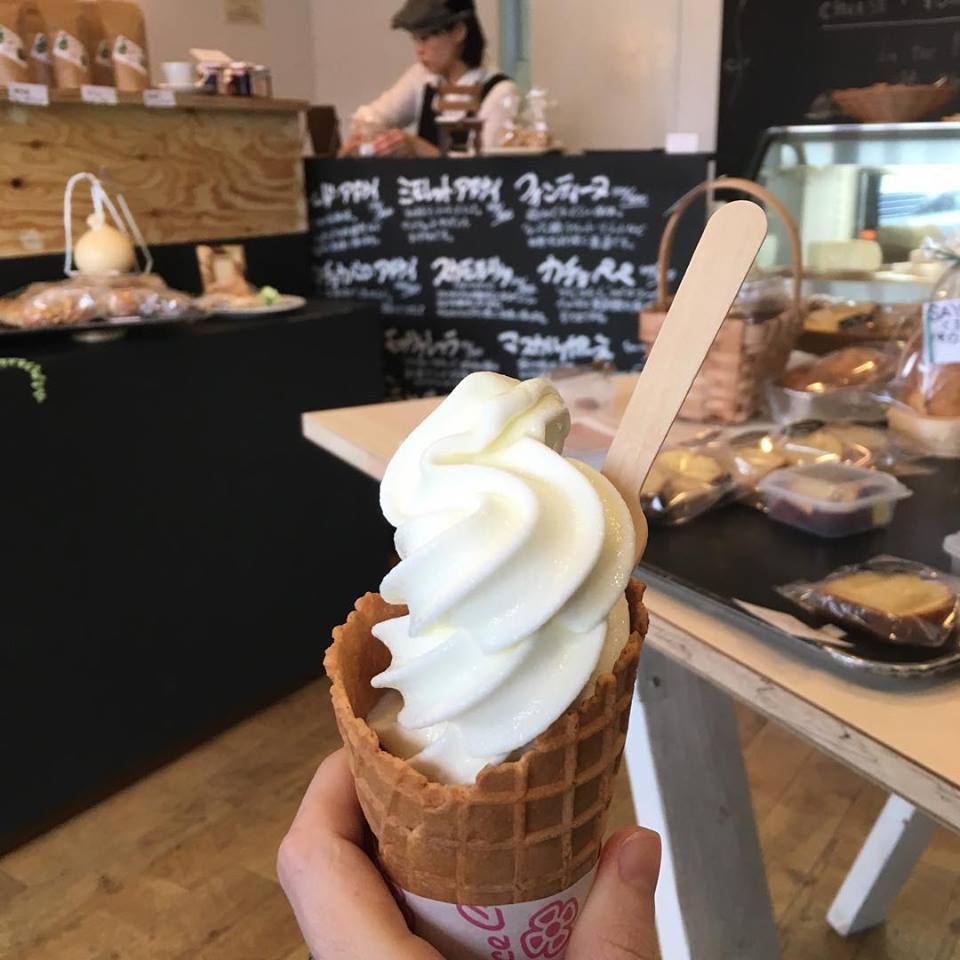 This ice cream is from my friend's Sapporo-based store, Table of Grace Bake. It's a little off the map, and it's definitely a locals spot. BUT, their soft cream is creamy, delicious and very reasonably priced.
You can check them out on Facebook HERE.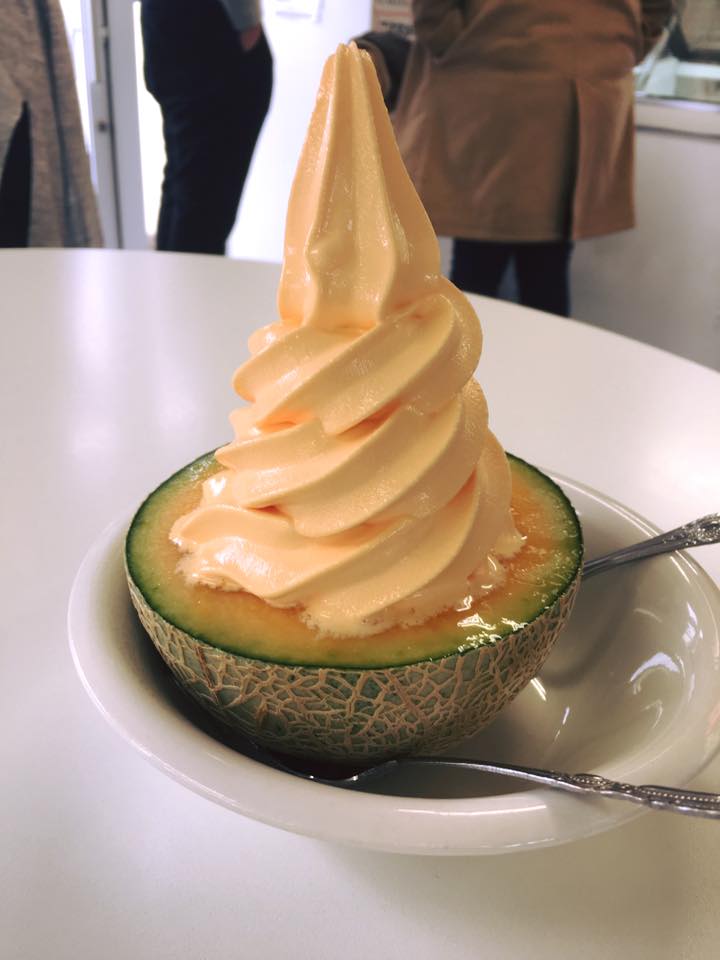 Next is 'Santa-no-hige' (literally, Santa's beard, because… it's meant to look like, Santa's beard) soft cream from Furano.
This is AMAZING, and fully-deserving of capitals.
Hokkaido melon is another super-food, and the combination of fresh soft cream and fruit is just out of this world.
You can buy this particular treat at Popura Farm in Nakafurano town. It's a little out the way, but if you hire a bus with us, we are guaranteed to take you!
Finally, if you are on a trip with us in Toya, we will ALWAYS want to take you to Lake Hill Farm for their epic ice cream.
They have flavours, and views, that are well-worth the trip, and its easy to factor in an ice cream pit stop on your way to the Toya views spots!
2. Soup Curry
Next up is one of my personal favourites food-wise.
Hokkaido soup curry.
I am guaranteed to eat this at least once every few weeks, and my husband also makes a pretty mean version himself.
The best or most highly recommended restaurants in Sapporo are a much-debated topic, and you are going to find a whole lot of varieties, spice levels and ingredients on a trip around the city. However, at it's core, soup curry involves a choice of meat, A LOT of vegetables, and a spicy soup broth.
It's delicious and definitely a Hokkaido-staple that you are guaranteed to get addicted too. (I had one friend who ate this at least twice a week throughout a 6-week stay in Sapporo!)
I'm yet to eat bad soup curry in Sapporo, but here are a few of my personal recommendations to start you off.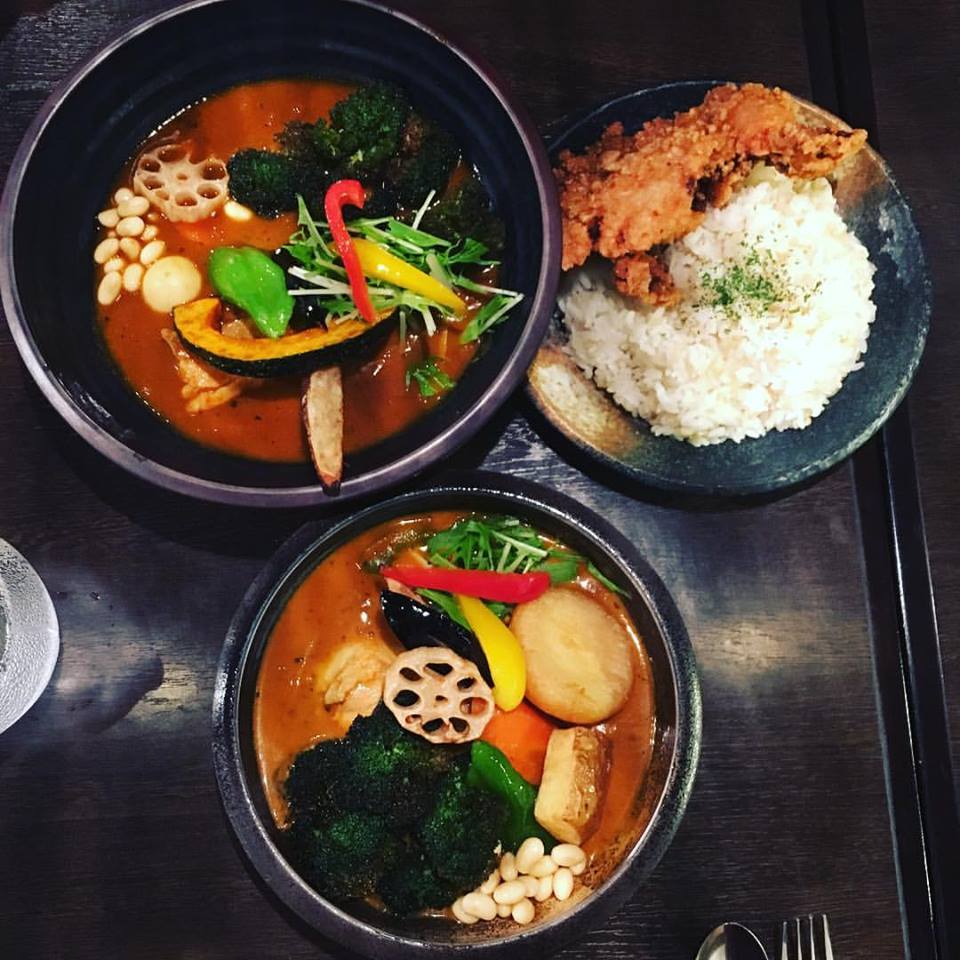 If you like vegetables and plenty of them, I recommend Samurai.
They have a few restaurants throughout the city, the soup is thick and filling, and you can choose from a more tomato-based flavour, through to mild, through to coconut.
I also recommend getting an extra topping of crispy broccoli (saku-saku-broccoli), which is honestly something I could eat all day every day and not regret it!
You can check out their website HERE.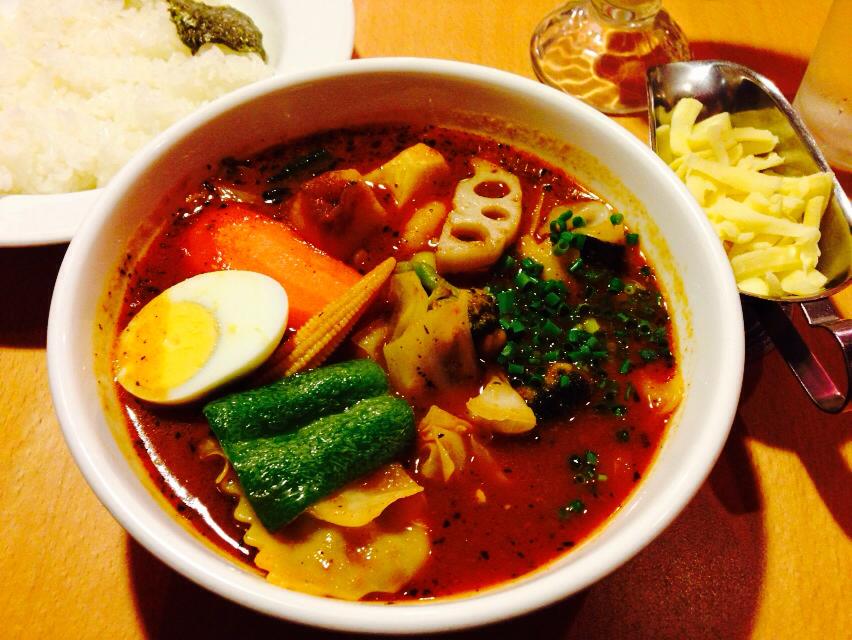 Next up, for non-meat fans, I find Cocoro Soup Curry a good bet.
Alongside all the meat-based varieties, they also do this brilliant spinach-ravioli based soup curry which I really love.
Check them out HERE.
Finally, and sorry for the lack of picture here (I've clearly always jumped straight into the eating part when visiting); for the quality of the soup, I recommend Soup Curry King.
They have a couple of stores in the city, but the flavours they manage to include are incredible, and the portions are big enough to keep you full all day.
Check them out HERE.
3. Seafood
This is really far too big a category to include, but I'm just going to go for it anyway.
Hokkaido seafood, in its many and varied forms, is one of the things to try.
Now, I know that for some, eating sashimi or sushi (the raw varieties of fish) is a big jump up from the norm, and can be a bit intimidating. However, I really recommend giving it a go whilst on your Japan adventure.
If you've never been to a fresh seafood or sushi restaurant in Japan before, it is always nice to go with someone who can introduce you to the way of ordering, whether to add wasabi, and other-such general advice. (Note: we're happy to take you if you're traveling with us!) For me, I'm actually pretty allergic to certain kinds of shellfish (get out the violins, for I live in Japan…), so it was definitely helpful to have someone who understood the menu at the start!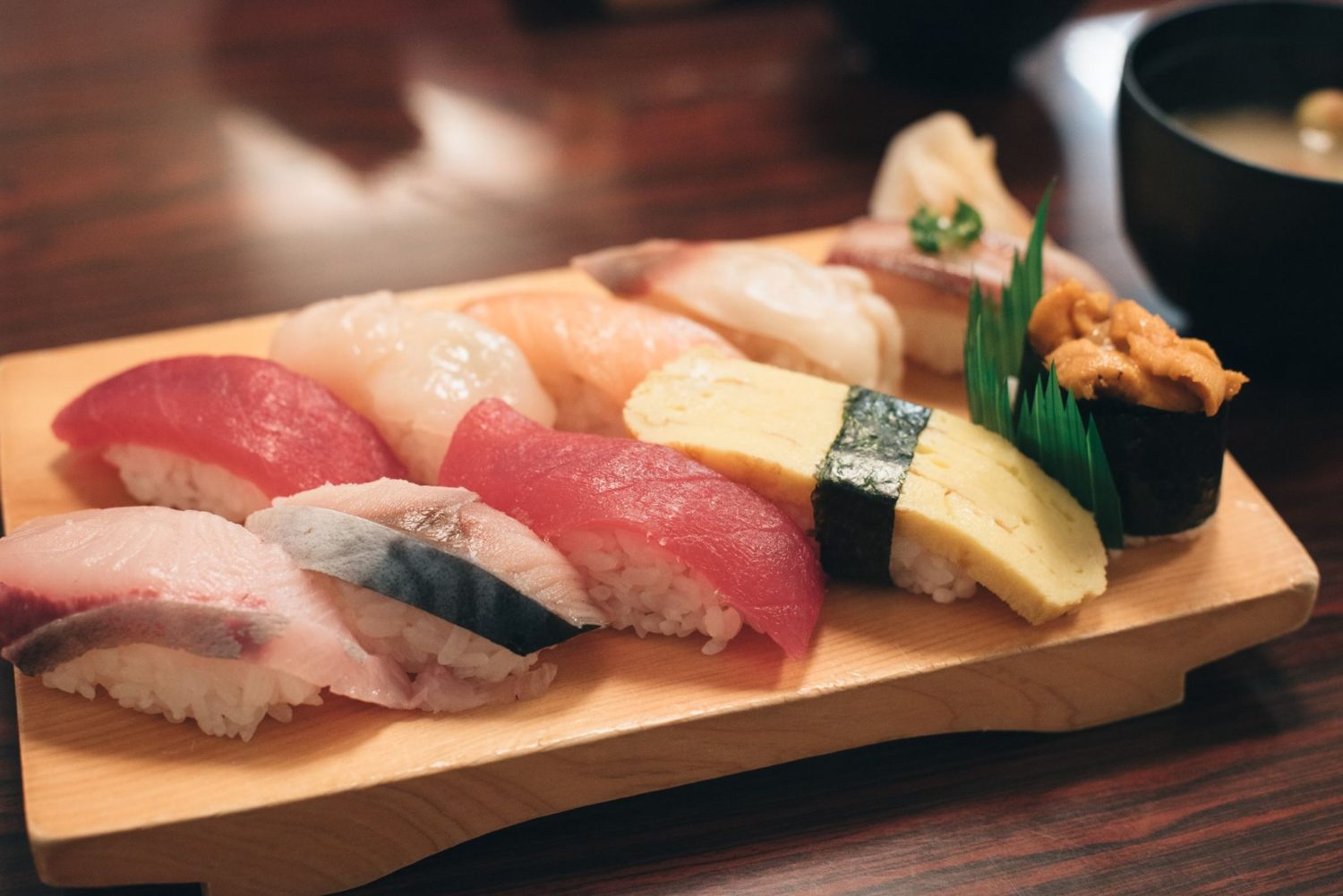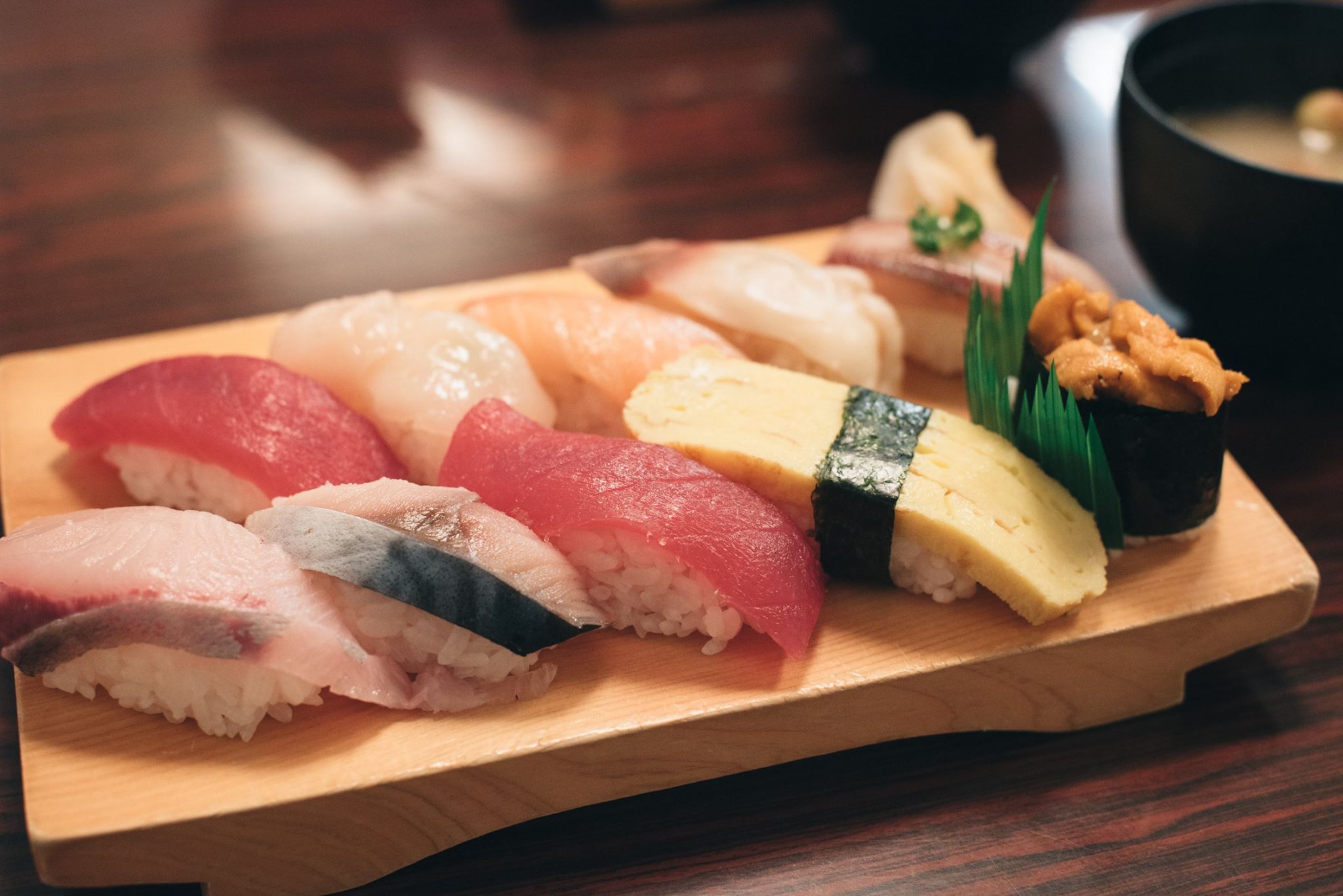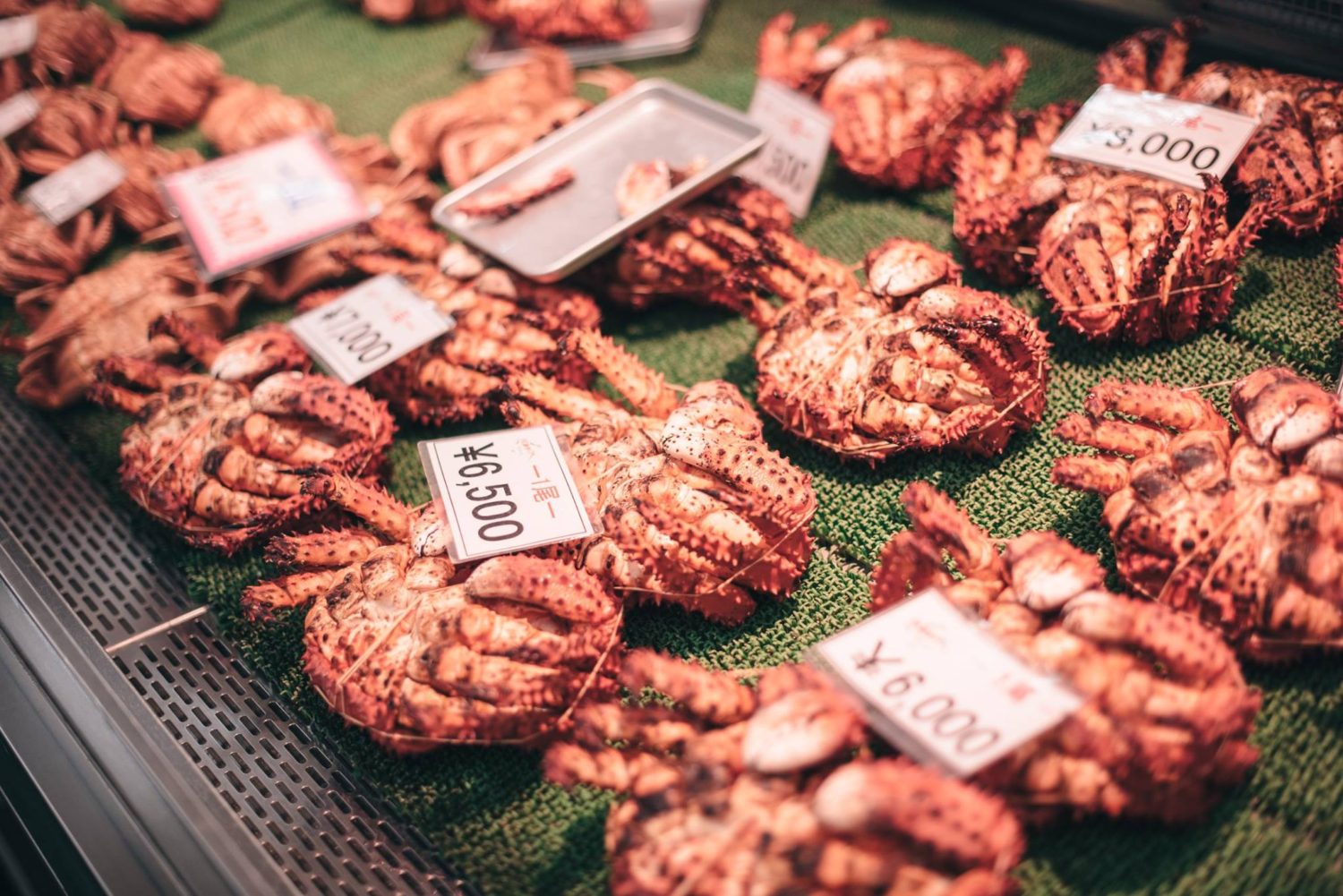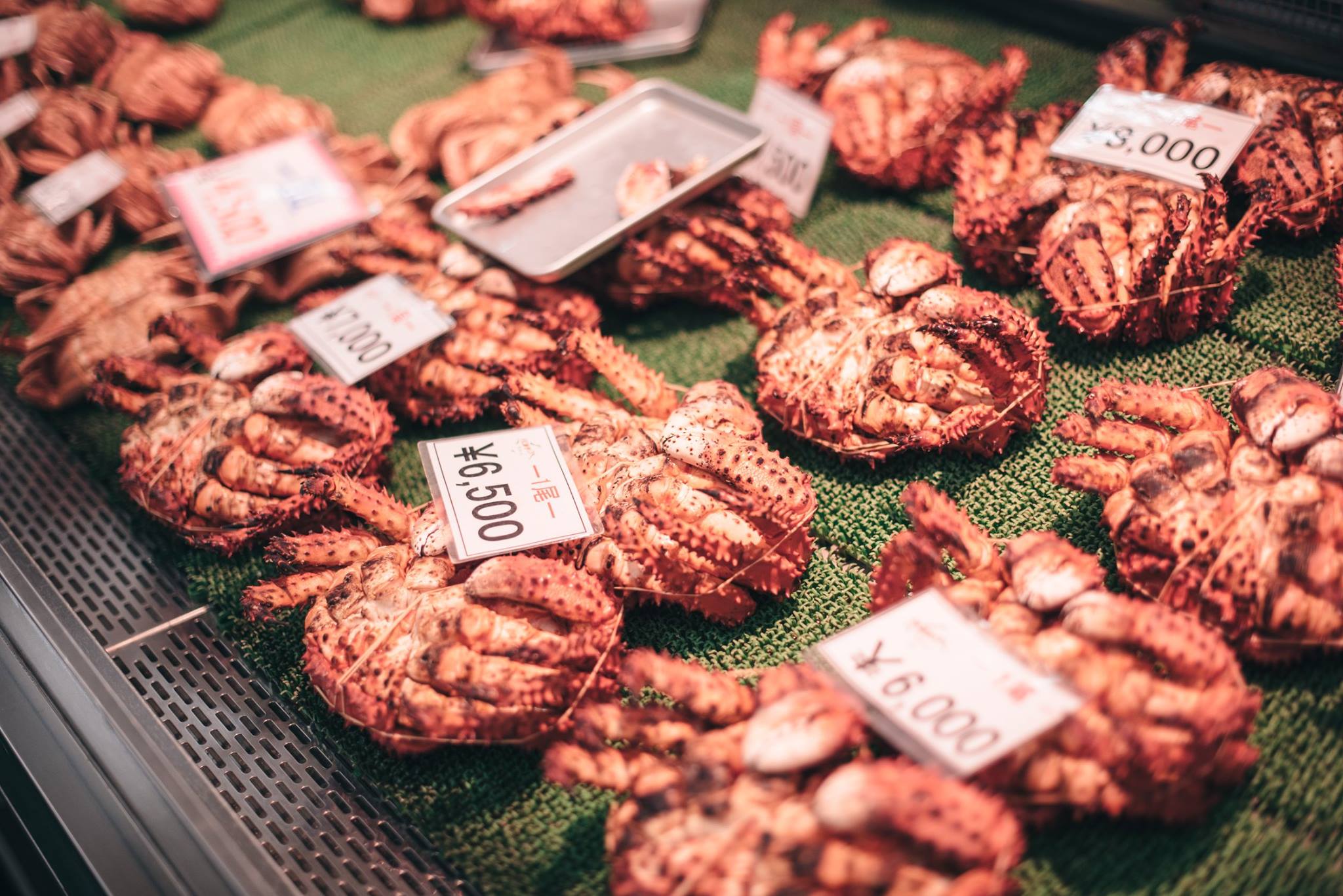 In Hokkaido there are a few places I recommend, depending on your budget, bravery and location.
For affordable, but fresh and delicious sushi, I recommend Toriton. It's actually easy to order, as they use the conveyor-belt style, but they are going to give you a great sushi-experience. If you don't know what you like yet, this is also a great way to try out lots of different options!
For fresh markets, Sapporo Nijo Fish Market, Hakodate Asaichi (morning market), and Kushiro Washo Market, are all worth checking out on your travels. The pictures above are from our recent trip to Kushiro, and you can do a pick-and-mix style eating arrangement where they'll put a bit of whatever you like on your rice and let you go wild – it's well worth it!
And finally, I can't eat crab, but everyone always tells me that Sapporo Kanihonke is the place! I'm afraid I can't check without killing myself, but YOU should definitely make a stop there.
4. Miso Ramen
And then there's ramen.
Now, ramen is famous throughout Japan, but it varies in type, noodle-style, soup-style and toppings depending on where in the country you are.
Hokkaido is the home of miso ramen. Usually combining a pork base, rich-miso flavour, (sometimes local butter and corn thrown in too), and thick noodles. It's the perfect winter-season comfort food, set to keep you full for hours of braving the snowy outdoor conditions, and wherever you look in Sapporo, you are going to find a number of ramen options available.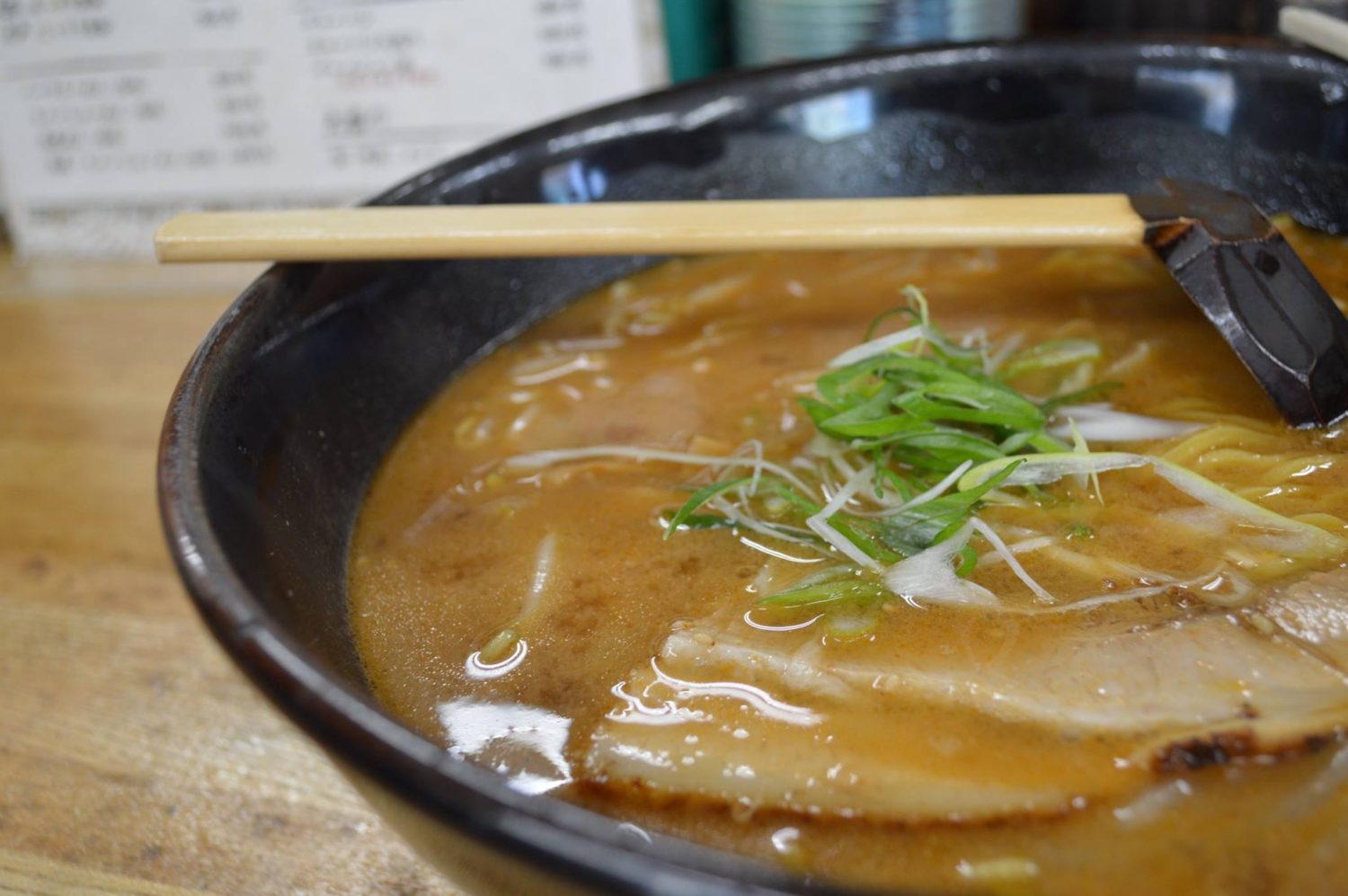 If you're in Sapporo, one of the easiest starting places is the well-renowned 'Ramen Alley' (Ramen Yokocho) in Susukino.
Here you'll find 17 ramen stores, a lively atmosphere, and quick service.
It can be a little difficult to find, but the address is
3 Chome-8 Minami 5 Jōnishi, Chūō-ku, Sapporo-shi, Hokkaidō 064-0805, Japan 
if you are using a maps-app!
For a slightly more leisurely experience, I also recommend Ramen Republic on the 10th floor of the Esta building near Sapporo station. Here there are 8 stores, giving you the chance to try out the different varieties of ramen available throughout Hokkaido.
You can check out their website HERE.
There are then tons and tons of tiny, local places. My husband is a ramen-lover-and-taste-pro, so if you would like a more local recommendation spot, get in touch!
5. BBQ Lamb (Genghis Khan)
Finally, just to round things up nicely, I want to talk about Hokkaido BBQ lamb, or genghis khan as its known in Japanese.
To clarify, we love this dish, and the general atmosphere of BBQing together with others, so much that we had this as the main reception food at our wedding. (Our wedding was an outside, hundreds-of-people-gathering, all-you-can-eat-BBQ, dancing affair).
You basically have a raised hot plate in the middle of your table, and then order a variety of lamb and vegetables that you BBQ yourself. You choose from seasoned or unseasoned meat, and you then enjoy with your friends or group. It's a really social and fun meal!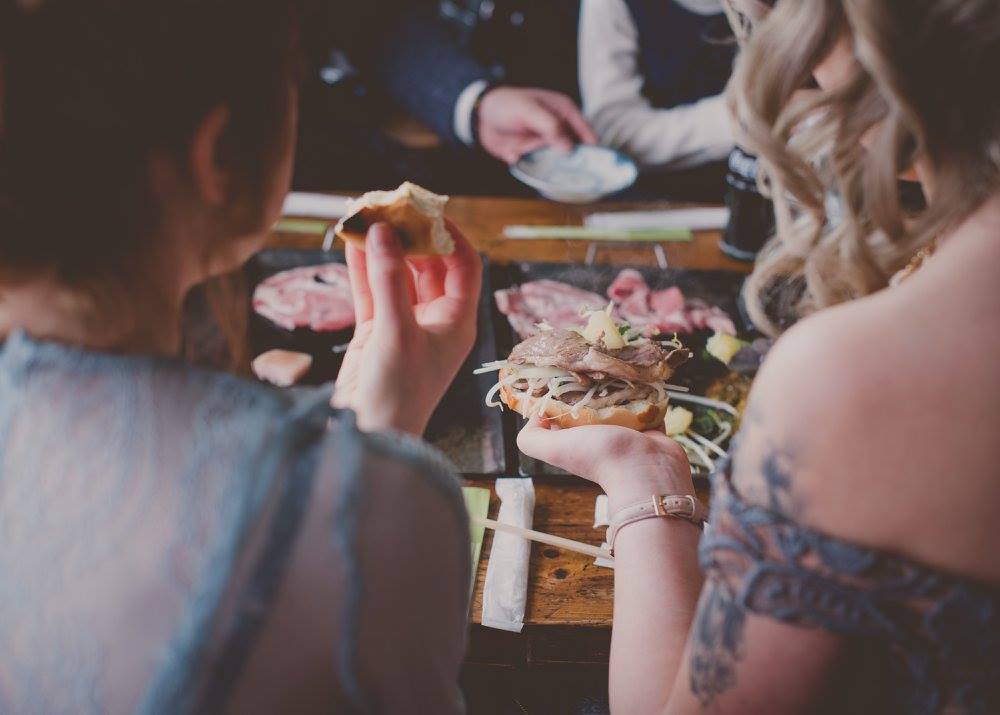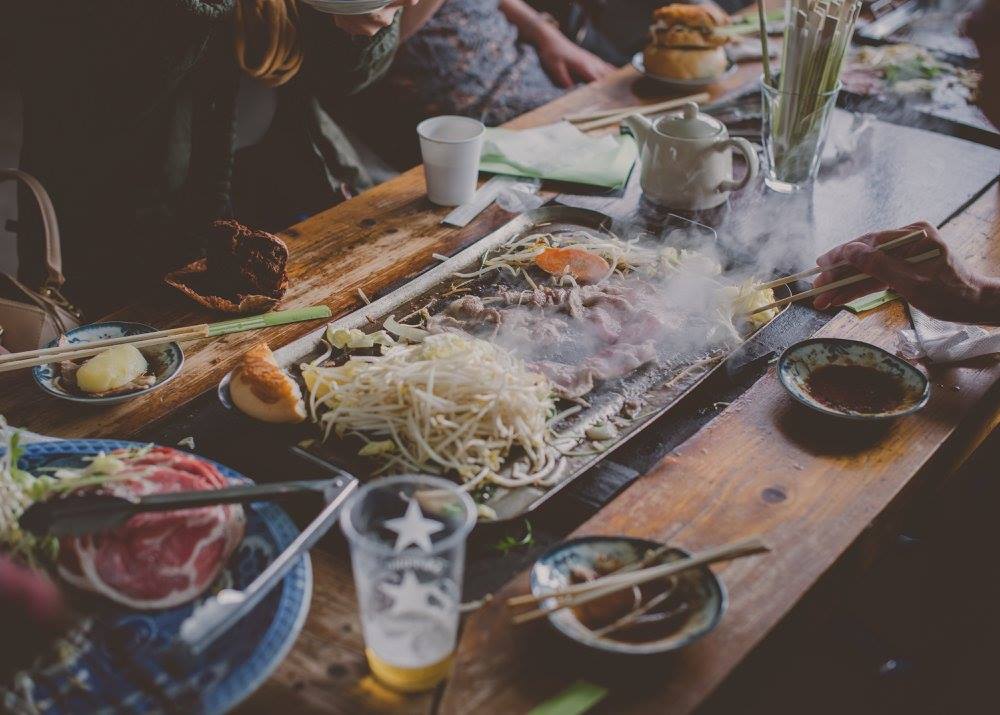 Again, there are a lot of great places to try in the city.
Fukoroutei is really famous in Sapporo, and the flavours on the meat there are great.
We also recommend heading out to the venue that we had our wedding reception at for a really local experience. Hakkenzan Kajuen is an amazing place. The mountains are stunning, you can fruit pick throughout the summer and autumn, camp, hike, take part in activities, and eat BBQ lamb in their indoor-outdoor facility.
Check them out HERE.
They are honestly worth a day trip. Again, it's a little off the beaten track, so we at Social Bus would love to take you out there and introduce the place!
Okay, and that's my rundown of some of my favourite local places, delicacies and spots to make sure you try!
One of the best things for us at Social Bus is introducing local places to eat, and new things to try for you and your group. We're provide transport, but we also love Hokkaido, love food, and love taking you to try great places.
Feel free to get in touch or comment with questions, feedback on your experiences, and if you have any other recommendations, I'd love to hear them!
Big foodie love!