4 things that surprised me about winter in Sapporo.
So, I moved to Sapporo in January 2014.
That makes this coming year my almost-5th winter (I arrived half way through in 2014, so it's really like 4 1/2 I guess).
Before I moved to Sapporo, I *knew* about the winters here, but I didn't really know about the winters; if you catch my drift. I mean, I knew there would be snow, and the annual Snow Festival is super-famous, but there were honestly also a bunch of surprises for me that first year.
And if you're considering coming to Japan for travel this season, these are definitely good things to keep in mind.
To put things into context, I am from the south of England. The FAR south. My hometown is so mild, it's nicknamed the 'British Riviera' – coldest average winter temperature 5 degrees celcius. We don't get snow. A harsh frost is enough to drive the public transport and local population into hiding. I grew up on the beach, swimming in the ocean and running around in flip-flops for half of the year.
Before I made the move to Japan, I did have a 5 year stint in the Highlands of Scotland, which was probably a saving grace in terms of preparation, but it still doesn't quite compare to Hokkaido.
When I landed here, it was a true winter experience, to say the least.
These were my top 4 surprises.
1. The sheer amount of snow.
Yep. I said it. I know that Sapporo is world-famous for it's snowsports, Snow Festival and all round perfect winter conditions, but there's something about walking out of your relatively city-centre house to epic snow piles which still takes some getting used to.
I imagined the snow in the countryside. Or in the mountains. Or, somewhere a little removed from my daily life. But, this is my street at winter.
The subway station is a 5 minute walk from my house, but believe me, that takes some preparing for at times.
It's an awesome experience. But please don't come to visit without a decent pair of boots because your hotel is in the city centre. Our city centre is also an epic snow adventure.
2. How long said snow sticks around.
Once I got over just how much snow there was, the second surprise was how long it stuck around for. Even when I lived in Scotland and we had some snow, it tended to last for a couple of weeks and then disappear. Maybe we'd have a couple of different snowy periods, but on the whole, I didn't see consistent snowfall for over a 4 week period.
But Hokkaido? First snowfall starts around November, and stays until…
Well, we got married on 8th April and let me share some wedding pictures to illustrate.
An April winter-wonderland, right?
That's a solid 5 months plus of snow each year. So, be prepared that cherry blossom and spring flowers are really a May-sightseeing-timescale in Sapporo.
And before that, keep the coat and boots on your luggage list.
3. How much there is to do in winter.
I knew about some of the more famous aspects of Sapporo before I moved here, but one of the best surprises was that the amount of activities, local festivals, and general things to do, more and matched the epic amounts of snow.
The famous annual Snow Festival is definitely worth seeing, and the snowboarding and skiing conditions have well-earned their reputation, but there are also local ice festivals, ice villages, illuminations, park activities, cross-country skiing, ice skating, winter markets, and alternative sports to try.
Ice fishing? Filled with laughter.
BBQ-ing in an ice house? Amazing.
Hot springs in the snow. YES!
Banana-boating on ice? Super-fun.
Snow-mobiling? Epic.
Dog sledging? Well, I tried it once and here is the before and after.
My dogs disposed of me somewhere around the final corner and I'm relatively sure I cracked a rib. However, compared to the various surf and skate injuries I've picked up over the years it's still definitely an experience I'd recommend!
Pretty much, Hokkaido is a real-life-hidden-gem-winter-wonderland and you would be crazy not to come and experience it.
4. It's easy to get around.
In the UK, snow stops things. Public transport gets cancelled. Roads get closed. Schools get shut. Meetings don't happen. And generally, alot of people hide in their houses until the sun comes out and melts everything back to normal.
In Sapporo, snow lasts for so long that *normal* life continues regardless. The subway never stops. The buses and trains and occasionally a little behind schedule, but they do get you where you need to be. People put winter tires on their cars and drive on the pure white roads. You even see the odd brave Sapporo local cycling around on sheet ice whilst holding an umbrella.
I've driven in winter. I've taken public transport in winter. I've travelled in winter. I've never missed a day of work or an outing with friends because of the weather. People just get on with life here. And as a tourist, it really is the best, because it means you can too.
Don't get me wrong, one of the reasons we recommend our bus rental service is that having an experienced driver in winter conditions makes life a lot easier and safer. As does getting door-to-door service when you've got luggage and icy streets. However, it's nice to know that you're in safe hands because people from Hokkaido have the experience of doing life in this kind of winter every year.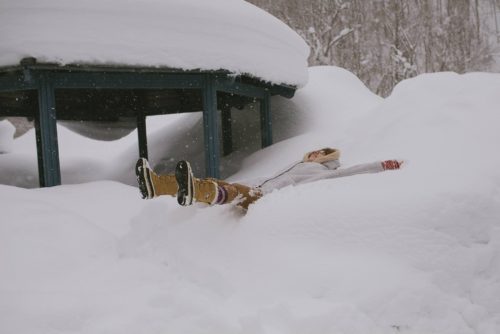 I'm just starting my 5th Sapporo winter, and honestly I can't recommend it to you enough. These were my surprises, but once you're kitted out in the right clothing, footwear and activities plan, you are really going to have the best and most unique experience.
So, get in touch! And come adventure with us in winter 2018!